Sri Lanka imports machines to clear mines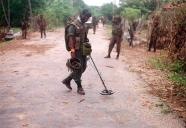 Sri Lanka has imported equipment to speed up mine clearing in the former war zone in the island's north, the defence ministry said on Saturday.
The mine-clearing machines imported from Slovakia would be used to accelerate resettlement of people driven out of the area during the height of fighting, the ministry said in a statement.
Sri Lanka's army and eight other organisations were involved in removing thousands of mines, but most of the work was done manually, K. Kumarasiri, secretary to the Nation Building Ministry, told AFP.
"Only 10 square metres (about 100 square feet) can be de-mined daily (by one mine clearer) through manual work," added Major General D.M.D. Alwis, coordinator of the Sri Lanka Humanitarian Demining Project.
"But these machines can clear 5,000 square metres," he said.
Sri Lankan troops crushed the Liberation Tigers of Tamil Eelam by killing the rebels' leader Vellupillai Prabhakaran in mid-May, ending a decades-long separatist conflict that had claimed tens of thousands of lives.
The army has said it was sending more troops for mine-clearing operations to speed up the resettlement of nearly 300,000 people displaced by the recent fighting.
They are being detained in the northern district of Vavuniya under tight security to be screened for remaining Tamil Tiger rebels.
Colombo has come under growing international pressure to release the civilians.
The government promised UN Secretary General Ban Ki-moon, who visited the island in May, that 80 percent of the refugees would be returned home before the end of this year.
(For updates you can share with your friends, follow TNN on Facebook, Twitter and Google+)