UN patience wears thin in S Lanka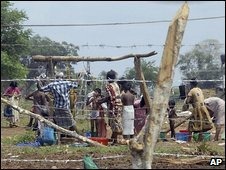 The UN says it cannot continue to indefinitely fund the main refugee camp in Sri Lanka where the government is keeping nearly 300,000 people.
The Menik Farm camp holds the Tamils who fled the fighting in the months before the civil war ended in May.
Sri Lankan authorities say they are still screening everyone for possible links with the Tamil Tiger rebels.
The UN says the civilians living there should be allowed to leave as soon as possible.
Since the war ended in May, the Sri Lankan authorities have refused to let anyone leave this vast camp apart from some young children, elderly people and priests.
UN agencies help fund and run the camps but there are signs the UN is running out of patience.
"The best solution is obviously that as many people leave as soon as possible," the UN's Sri Lanka chief, Neil Buhne, told the BBC.
"And that the site can become – for the people who have no place else to go – that it becomes an open site."
'Concerned'
Mr Buhne also criticised the fact that the International Red Cross was being denied access to 10,000 of the Tamils whom the government calls Tiger suspects.
President Mahinda Rajapaksa said this week that it could still take six months or a year to work out how many of the displaced were to be prosecuted.
Separately, a UN spokeswoman in New York said the world body was "extremely concerned" about two of its Sri Lankan staff members arrested in June near the camps and still in detention.
(For updates you can share with your friends, follow TNN on Facebook, Twitter and Google+)