Sri Lanka boycott campaign expands to multiple US cities
 North American Tamils expanded their boycott campaign over Sri Lanka goods to over a dozen cities across the US and Canada, targeting GAP and Victoria's Secret stores on Saturday, youth organizers of the event said. Leveraging the "No to Sri Lanka" website run by Canadian youth activists to spread the campaign message, the organizers held protests in San Francisco, Chicago, North Carolina, Boston, Atlanta, and in several Canadian cities. The protesters stood inside malls, outside shopping centers, and some in the median of busy streets, urging ethical shoppers to resist buying garments made in Sri Lanka.
"We wanted to convey a unified message that by conducting business with Sri Lanka's apparel manufacturing industry, GAP and Victoria Secret are indirectly funding a brutal regime that is accused of possible war crimes, and which is holding nearly 300,000 Tamils in military supervised camps with little or no freedom of movement," spokesperson for co-ordinating the protests said.
Dozens of protesters, including women and children held placards and distributed leaflets in several places in the campaign cities, and drew the attention of large crowds of people,
The busy intersection at Market St. and Powell St. outside the GAP store was targeted by protesters in San Francisco. Protesters met with the store management and explained why protesters object to GAP's business with Sri Lanka.
Another group of protesters met outside Victoria's Secret store on Powell St. in San Francisco while similar protests were held in major cities across north America.
Volunteers distributed more than 3000 campaign fliers while walking from Macy's to Victoria Street and to GAP around 4 blocks also on Michigan Street in Chicago.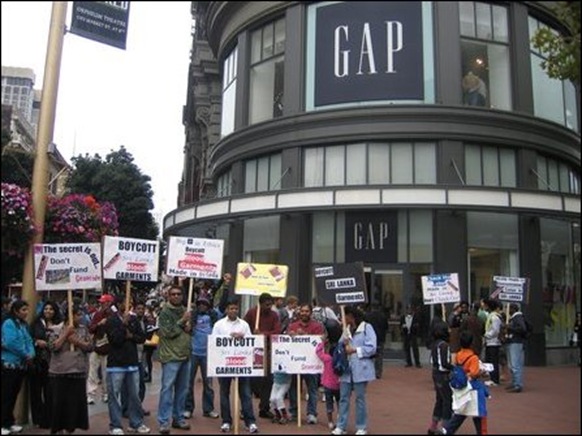 (For updates you can share with your friends, follow TNN on Facebook, Twitter and Google+)