Trisha too busy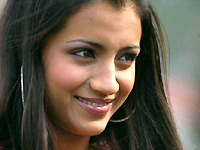 The petite beauty Trisha has been ruling the roost in southern industries till date. She is one of the very few heroines who have dominated both Telugu and Tamil. Soon, she is all set to make her debut in Bollywood as well. Trisha assures southern film fans that even though she is doing a Bollywood film, she is not picking up and moving to Mumbai.
Although she is one among the front runner actresses, she has not done her own dubbing till date. Most probably, as she was born in Kerala, Malayalam is her mother tongue and she might find it difficult to be fluent in other languages. But now she has been working hard on her Hindi lines so she can start out to dub with her own voice for her Bollywood project! Meanwhile she said that this Hindi movie will be a good launch for her in Bollywood and her focus would be to prove her mettle as an actress.
In a recent interview Trisha shared her thoughts about what is more important to become a heroine. She said that the first thing to become a heroine is to be beautiful. She added that talks about performance come later but first thing that is noticed is the beauty of the heroine. Sources reveal that Trisha's demand is so high that she would have been the heroine of all the movies if her call sheets were not full.
(For updates you can share with your friends, follow TNN on Facebook, Twitter and Google+)