Priests, media and rights activists call for Terrorism Act repeal – UCAN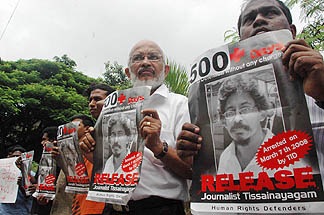 The lengthy sentence handed down to Tamil Christian journalist J.S. Tissanayagam has led to a broad-based call for the repeal of the country's Prevention of Terrorism Act (PTA).
Hundreds of citizens have been punished under the 1979 law, under which some have languished in remand for 15 years without trial, according to activists.
Christian priests, journalists, rights activists, lawyers and artists gathered at the Centre for Society and Religion (CSR) on Sept. 10 for a meeting to discuss the situation. The meeting, though not publicized, drew around 200 participants.
Father Terrence Fernando, 51, a priest of Colombo archdiocese, told UCA News that although freedom of expression is universally recognized as a fundamental right, "it is already buried in our country."
"People should come forward fearlessly to urge the government to uphold freedom of expression," he said.
Participants decided to form a steering committee to organize a campaign to demand the government abolish the PTA and respect fundamental human rights.
Jayaprakash Sittampalam Tissanayagam, who has written articles critical of the government, was convicted under the controversial law for attempting to cause acts of violence or racial or communal disharmony, and for attempting to cause disrepute to the government.
He was also charged with collecting and obtaining information and funds for the purpose of terrorism through his "North Eastern Monthly" magazine in 2006 and 2007.
The journalist was arrested on March 7, 2008, but some media reports say he was charged only the week before being sentenced on Aug. 31 to 20 years in prison.
Attorney J.C. Weliamuna, executive director of Transparency International-Sri Lanka, called use of the PTA against the journalist inappropriate.
"People should come to the streets and demand the government ban this act and uphold the freedom of expression," he said.
Opposition leader Ranil Wickremasinghe has spoken publicly against misuse of the act. Speaking in Parliament, he accused the government of attempting to use the provisions of the terrorism act to suppress the media.
The anti-terrorism act applies to terrorists, not to journalists, he insisted during an emergency debate.
According to media reports, 14 journalists have been murdered in the past two years, and another 11 left the country.
Father Fernando decried the sentence against Tissanayagam.
(For updates you can share with your friends, follow TNN on Facebook, Twitter and Google+)