Simbu will follow Ameer: Cheran's calculations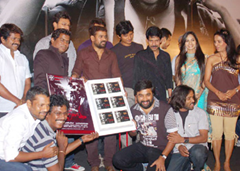 Poet Snehan, journalist Devaraj and others have been sporting long hair and beards for the past 3 years. All have been cast in 'Yogi' and only now has the film come to release its audio.
At the screening of the songs, one was amazed to see Ameer and Snehan dancing away to glory for one of the songs. One can see the hard work of 3 years in this song! It was terrific to see all the directors of Kodambakkam honored at this one function.
Special guest Bharatiraja did not go on dais and he sent his best wishes from where he remained seated. "The Iyakkunar Imayam is upset that Tamils did not unite to work for the cause of the Eelam Tamils. This is the cause of his mouna vratham," said Cheran and only then enlightenment dawn on everyone. "I have seen this film. For Ameer's courage and hard work, success will surely come his way. I was astounded at Ameer's acting in a particular scene. No other actor could have done it so well. After the film is released, actors like Simbu will take it as a guideline, for that scene will create the thirst to learn."
Ameer gave the vote of thanks. "I have no dream. I never dreamt that I would direct a film, produce a film or act in a film. I do not plan and do things. My family has even chastised me many times as irresponsible. I never harbored desire to become an actor. I've gone to many places with Surya and Vikram. Rasikas used to ask them for their autographs. After all I was a director, so I used to be ignored. This did not bother me.
(For updates you can share with your friends, follow TNN on Facebook, Twitter and Google+)