UN envoy in Sri Lanka for talks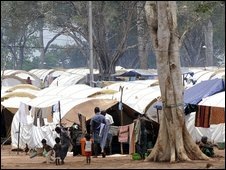 A top UN envoy has arrived in Sri Lanka for talks with the government on the post-conflict situation in the country.
Under-Secretary General for Political Affairs Lynn Pascoe is due to visit the huge camps for internally displaced Tamil civilians on Thursday.
He says he will press the government to speed up the release of the Tamils, whose numbers are put at about 300,000.
The envoy said he would also urge the government to address allegations of human rights abuses in the fighting.
'Very concerned'
UN officials say Mr Pascoe will be holding talks on critical issues related to the aftermath of the armed conflict.
The BBC's Charles Haviland in Colombo says there are issues of great sensitivity. One is the resettlement of the Tamil internal refugees, most of whom are still not allowed to leave government-run camps in the north.
Although the authorities are gradually letting some return to their villages, the UN wants to see faster progress.
As Mr Pascoe prepares to visit the main camp, aid agencies are worried the shelters may not easily withstand the coming monsoon.
Another sensitive area is setting up what the UN calls a mechanism of accountability, for alleged human rights violations in the context of the conflict.
Sri Lanka has so far staved off international moves to investigate such allegations.
Its communique on the visit says the government looks forward to the widest possible engagements, but not surprisingly, it doesn't mention human rights, our correspondent says.
Mr Pascoe will also have talks on political reconciliation.
"We're very concerned about the pace of progress," he said in New York before leaving.
(For updates you can share with your friends, follow TNN on Facebook, Twitter and Google+)