UN pushes Sri Lanka on Tamil rights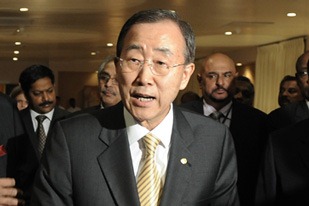 The UN's political chief has arrived in Sri Lanka to press the government to release nearly 300,000 Tamil refugees detained at government-run camps since the end of the civil war in May.
Lynn Pascoe, the undersecretary-general for political affairs, arrived on Wednesday for three days of talks with government officials and political and civil society leaders.
Pascoe is expected to focus on "the resettlement of internally displaced persons, political reconciliation and the establishment of a mechanism of accountability for alleged human rights violations in the context of the conflict," the UN said in a statement.
Gordon Weiss, the UN spokesman for Sri Lanka, told Al Jazeera: "We hope that it will add to the assurances given to the UN secretary general [Ban Ki-moon] by the president of Sri Lanka when he was here in May.
"The secretary general believes that progress in getting people out of the camps and back home and on political reconciliation is going too slow.
"Sri Lanka has human rights obligations … and is expected to uphold those obligations," he said.
Displaced Tamils
The Sri Lankan government had promised Ban that 80 per cent of displaced people
would be sent back to their homes before the end of this year.
The foreign ministry said it welcomed Pascoe's visit and looked forward "to the widest possible engagements" during his stay.
Sri Lanka has so far resisted calls for war crimes investigations into its battle with the Tamil separatists.
The UN has said that up to 7,000 civilians may have been killed in the first few months of this year when security forces escalated their offensive against the remnants of the Liberation Tigers of Tamil Eelam (LTTE).
(For updates you can share with your friends, follow TNN on Facebook, Twitter and Google+)