After Bloodbath on the Beach, Sri Lanka Offers Fish Balls with a View of UN
It was a night of fish balls and denials, high above the UN. In a 38th floor that the government of Sri Lanka has rented for seven years now, the country's new Ambassador to the UN Palitha Kohona invited and greeted members of the UN press corps, urging them to eat his chips and fish balls, drink wine red or white or orange juice.
  Inner City Press attended as one might a car crash: it was impossible, after seeing the barbed wire rings camps of Vavuniya and the bombed-out bloodbath on the beach not to accept an invitation to see the Sri Lankan government's other Janus face.
Kohona shook hands for over an hour, telling the same story more than once. He recounted how good the view had been when he worked for the UN, on the 32nd floor in the Treaty Section. He didn't do it for a salary, he said, but rather for the feeling of knowing he was helping a child somewhere in the world.
Inner City Press asked how long the people in the camps would remain locked up. Let me tell you, Kohona said, the bulk of them will be home by the end of the year. What about reports that of the 10,000 who recently left Manik Farms, over half were simply taking to other camps? Kohona called that mischievous, of course there are interim camps. He asked pointedly about the victims of Hurricane Katrina in the U.S., those still not returned home.
UN High Commissioner for Human Rights Navi Pillay has said both sides in Sri Lanka may have committed war crimes. Even after that, Kohona claimed that no one in the UN system had criticized Sri Lanka. Inner City Press asked him, isn't the UN High Commissioner for Human Rights part of the UN? No, Kohona answered, she has a different status. What about UN children and armed conflict adviser Radhika Coomaraswamy? She is closer to the UN, Kohona said. There are rules about what she can say.
   Top UN humanitarian John Holmes, when he went to Sri Lanka early in his term, was called a "terrorist." His statements, it seems, changed after that. Kohona spoke about the meetings in Kandy in May, which Inner City Press witnesses, when cameramen told John Holmes to sit down and not block the view of the Rajapaksa brothers and of Ban Ki-moon. He's not used to that, Kohona said. He's not only a UN official but also a Sir, Sir John Holmes.
The apartment, despite the view, had a looted feeling. There was empty spaces on the walls with electrical outlets behind them. I am bringing my belongings, Kohona said, referring to a sound system. He denied that the UK had refused him a visa. He justified the government's expulsion of UNICEF Spokesman James Elder, an Australian, saying Elder violated UN rules by speaking out. Some say Sri Lanka listens in on the UN. We will have more on this and other on-the-ground developments in Sri Lanka. This article strives to just describe a surreal evening in UN world.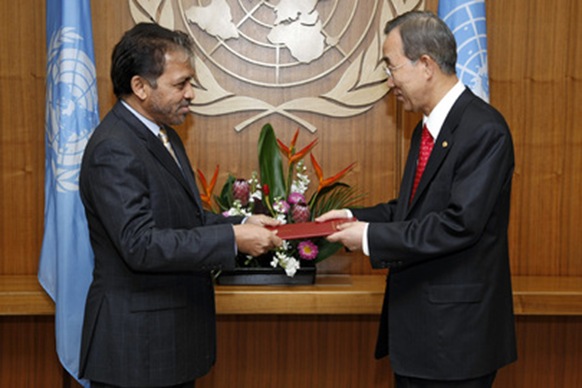 UN's Ban and Sri Lanka's Kohona on Sept. 11, video and Guardian not shown
Kohona was naturalized as Australian, and was seconded to the UN by that country's foreign service. After four year he was supposed to return, but he says his boss Hans Corell urged him to stay. He did, for another six years until Mahinda Rajapaksa invited him to return from the diaspora to "live in a gilded cage, surrounded by guards" and put words on his final assault. There are stories still circulating in the UN, which will be told another time.
(For updates you can share with your friends, follow TNN on Facebook, Twitter and Google+)