On Sri Lanka, UN's Ban Speaks But No Questions Allowed, Pascoe Spin
Having been widely criticized for weak handling of civilian deaths and detentions in Sri Lanka, the UN administration of Ban Ki-moon now seeks to control its message and limit questions, to turn the tide of negative coverage in the run-up to next week's General Assembly meeting.
At a purportedly unscripted questions and answer session with the UN press corps on Thursday, Ban Ki-moon began by reading out a statement, including on Sri Lanka. But then no questions on Sri Lanka were taken or allowed by Ban's Spokesperson Michele Montas.
  It seems obvious that if an issue is deemed important enough by the UN, even belatedly as with Sri Lanka, to be one of the few country specific issues in the Secretary General's opening statement, a question should be taken on the issue. Ban's opening statement did not mention, as he himself has not, the video that emerged weeks ago depicting the Sri Lankan Army performing summary executions. Inner City Press has asked his Spokesperson's Office for his response, and received only indirect, roundabout comment.
Thursday's canned opening statement did not mention a story that came out well in advance of Ban's statement, that even of the 10,000 people recently removed from the internment camps in Vavuniya, half of them were merely moved to other camps further away.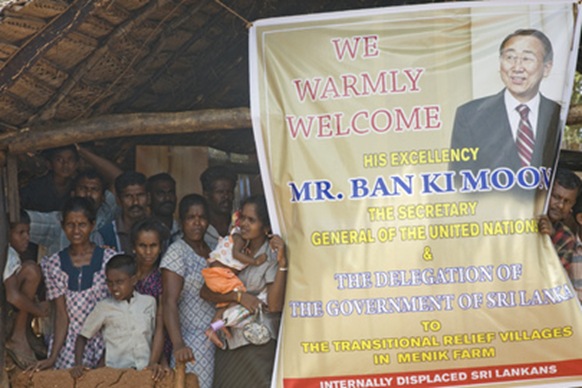 UN's Ban on Sri Lanka government sign in May
A narrative published in the UK Guardian the day before Ban's statement recited of the camps that
"I was there when the UN secretary Ban Ki-moon came in. He stayed there for about 10 minutes and just went. Why didn't he go into the camp and talk to the people and spend some time asking them what their problems were? I thought he has a responsibility and people were expecting something from him. They expected much from him and he just spent 10 minutes and that's it."
Now Ban has sent his head of Political Affairs Lynn Pascoe to Sri Lanka. The UN News Center dutifully churns out stories of concern:
"Mr. Pascoe, accompanied by the Deputy Minister of Foreign Affairs, Hussein Bhaila, visited Mannar, where he witnessed preparations to construct a water reservoir for resettled communities, and received a briefing and demonstration by the armed forces on progress in clearing mines from the surrounding Mannar Rice Bowl region…. Secretary General Ban Ki-moon today voiced his concern about developments regarding the IDPs, as well as the political process and a possible accountability mechanism for alleged human rights violations committed during the armed conflict. Speaking at his monthly news conference in New York, Mr. Ban said he had discussed these issues with President Mahinda Rajapaksa."
(For updates you can share with your friends, follow TNN on Facebook, Twitter and Google+)