UN warning over displaced Tamils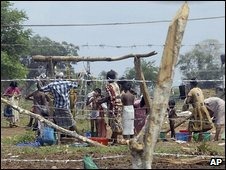 A senior UN envoy says the situation in Sri Lankan camps for Tamils displaced by the recent war is putting reconciliation at risk.
Lynn Pascoe, the UN's political chief, was speaking at the end of a two-day visit to the island.
Earlier, President Mahinda Rajapaksa said he expected 265,000 refugees to be resettled by the end of January.
He also said displaced Tamils were to receive day passes from camps so they could go to work outside.
Mr Pascoe, a deputy to UN Secretary General Ban Ki-moon, said the UN was devoting special energy to the displaced Tamils, most still interned in camps, because the issue was critical for the country's future.
He said the current situation risked breeding resentment that would undermine the prospects for political reconciliation.
He told the BBC there had to be a mechanism for addressing claims of human rights breaches during the civil war, despite Sri Lanka's repeated dismissal of such suggestions.
"The real issue here is the long-term viability of Sri Lankan democracy, the direction the society is heading," he said.
"Frankly, one has to deal with the past to move on to the future, which is exactly what Sri Lanka should be doing."
Mr Pascoe also described as "shabby" the treatment of some UN staff in Sri Lanka.
Two Sri Lankan members of staff have been under arrest since June and a Unicef spokesman is facing expulsion.
The government has been tackling some of the diplomat's criticisms head-on.
Speaking earlier, President Rajapaksa said he expected the resettlement to be complete by the January deadline.
A statement on the government website said he was also sticking to the government's target that most of them – he gave a figure of at least 70% – should be out by late November.
According to UN figures, nearly 265,000 people remain in camps, most of them at one huge site, and fewer than 15,000 have so far left.
UN sources have meanwhile confirmed to the BBC that some refugees permitted to leave the biggest camp a week ago have in fact been placed in transit camps nearer to their homes in eastern Sri Lanka.
(For updates you can share with your friends, follow TNN on Facebook, Twitter and Google+)