As Rajapaksa Says Pascoe Praises His Actions, UN Refuses Questions, Shuts for Weekend
As Sri Lanka put it spin on the visit of the UN's head of Political Affairs Lynn Pascoe, saying he told President Mahinda Rajapaksa the country has a better story than is known, in New York the UN's insistence on unilateral statements on which no questions are permitted grew more extreme and more shrill.
The day after Secretary General Ban Ki-moon read a statement about Sri Lanka at the beginning of a supposed Q&A session and then no questions on Sri Lanka were selected or allowed, UN Spokesperson Michele Montas shrunk the noon briefing to a mere nine minutes, with no question of any kind taken or allowed. She said to Inner City Press, I will answer your questions later. Video here at Minute 9:53.
Inner City Press submitted these questions on Sri Lanka:
–Did Mr. Pascoe raise the issue of the video depicting the Sri Lankan Army performing summary executions? What was said on "accountability"? Does the ICRC has access to all of the 10,000 people in "rehabilitation camps"? Or not, as reported here?

–Does the UN agree with this Sri Lankan gov't depiction of Lynn Pascoe's statements and positions?

You have better story than is getting out today – Pascoe to President

UN Under-Secretary General Pascoe says he is encouraged by the progress made in the north of Sri Lanka
Neither Ms. Montas nor the "colleagues" to whom she said she referred the questions she said she would answer provided any responses to the questions about the close of business Friday, in advance of a three-day UN weekend. Rather, Mr. Montas explained why she took no questions at the "briefing," and why contrary to what she'd said on camera she would not answer questions later either:
Matthew, Can you understand that there are times when having a 15 minute window , I cannot accommodate questions at the briefing (something all the journalists in the room seem to understand except you), that several of your colleagues were waiting for the Nuclear Test Ban treaty briefing to write their stories and that I receive questions from about 30 correspondents everyday. They too have deadlines.

I realize it is almost impossible to have a normal professional exchange with you. Any attempt to help you get to a source that would provide you with the information you need (which is what I do for all correspondents here) is a pretext for a blog attack as your subject line already indicates :"Questions after "No questions" noon briefing, unresponded to August on Jenca, September on Fowler, etc". All emails are fodder for more inaccurate and sensational blogging

I am referring your questions to my colleagues and to Jared Kotler who is presently traveling with Mr. Pascoe but a number of the answers you require were the subject of Mr Pascoe's press conference there (available as I said, in my office). You will receive answers from them
But four hours later, while Ms. Montas sent copies of the above to each of her associate spokespeople, not a single question had been answered.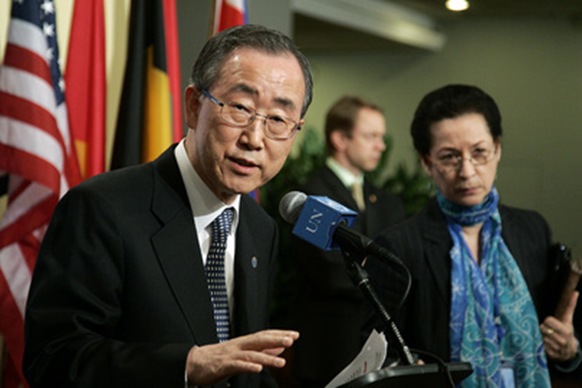 UN's Ban and Ms. Montas, answers to Sri Lanka questions not shown
Not only is answering questions the job of that Office — to arrange to make on camera unilateral statements on a topic like Sri Lanka and then refuse to take or answer any questions about what was said is, in many people's definition, propaganda. It is to this that this UN has sunk.
Footnote: Numerous journalists at the UN on Friday marveled at the "no-question" noon briefing, and wondered why Ms. Montas would leave. Inner City Press has reported November, others say sooner. One correspondent, seeing Montas' response, opined, "she just doesn't care anymore. No one can fire her. So she write answers that way."
(For updates you can share with your friends, follow TNN on Facebook, Twitter and Google+)