As Japan and Clinton Met, Sri Lanka Not Mentioned, Myanmar Only Later, Prisoner Questions
When U.S. Secretary of State Hilary Clinton met Monday one on one with her Japanese counterpart Katsuya Okada, neither Myanmar nor Sri Lanka was discussed, Inner City Press learned Monday night. These are two countries where, as reported, international "crimes have occurred."
Next to a hotel conference room full of dozens of Japanese reporters, a briefing was given Monday night for two non-Japanese journalists by Yasuhisa Kawamura, the Deputy Press Secretary of Japan's Ministry of Foreign Affairs. The invitation to the briefing said that "Kawamura will accept journalist's questions on any topic of interest."
  The operative word, it turned out, was "accept" — because when Inner City Press asked about Japan's desire for a seat on the UN Security Council, whether the election in Japan has impacted that and what might be accomplished during this week's General Assembly meetings, Mr. Kawamura said, "I don't have that particular answer."
The briefing focused on or was limited to Minister Okada's "forty five minute" meeting with Hilary Clinton. Inner City Press asked if the talk of "stability" in Afghanistan included any discussion of the contested elections. Mr. Kawamura said that he meant stability "in a general way," adding, "let me repeat, Japan will continue to provide support with reconstruction efforts in civilian areas." He said that refueling in the Indian Ocean did not come up.
Inner City Press asked either if Myanmar and Sri Lanka had arisen in the meeting with Hilary Clinton, or for Japan's and its new administration's view of these issues. Mr. Kawamura said, "As far as I know, at today's meeting they didn't pick up Myanmar or Sri Lanka." He then said that "Japan is concerned about with others the Myanmar situation."
Having received not even a no comment about Sri Lanka, Inner City Press asked again, about the visit by Japan's envoy Akashi, and whether Japan would continue funding what some characterize as internment camps. Mr. Kawamura said, "again, today they didn't discuss Sri Lanka. There was a breakthrough in the civilian conflict this summer." He said, "Japan gave [funds] in the hope of internal… mutual understanding among races."
Mr. Kawamura paused and then added, "I need to confirm with Mister Minister," saying that before the election "we did assist." Might it change?
After the briefing was formally declared closed, Mr. Kawamura indicted he wanted to add that at a "trilateral" meeting of Hilary Clinton, Mr. Okada and their Australian counterpart, Myanmar was discussed. Minister "Okada added that it was regrettable that Aung San Suu Kyi is still detained" while welcoming the new of the release of some other prisoners. [See below.]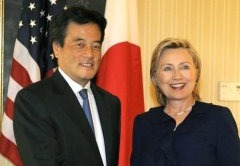 After the briefing was finally seemingly over, Inner City Press returned a phone call and Mr. Kawamura said he wanted to "amend" certain of his answers. Where he had said that Japan would "consult" with the U.S., he had meant Japan would "examine internally" and then "cooperate" with the U.S.. Where he had seemed to over-emphasize particular issues, he only meant that they were a "focus." But there was no additional information about Myanmar, and none at all about Sri Lanka.
Footnotes: Considering — or "focusing on" — Hilary Clinton, we note that on this same September 21, the U.S. office on war crimes issues was to turn in a report on Sri Lanka to the U.S. Congress. There's a scheduled protest by the UN on September 22 for inaction on Sri Lanka, just as there was a similar protest earlier at the Japanese mission. And then, at 11:30 p.m. on Monday night, another Japanese press conference was called for.
(For updates you can share with your friends, follow TNN on Facebook, Twitter and Google+)