"No IDPs but FDDPs, in Vavuniyaa camps" – Mangala Samaraweera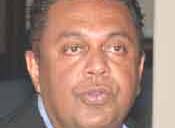 "Today barbed wire internment camps are euphemistically called "Welfare Camps" and the 280,000 people incarcerated there are called IDPs (Internally Displaced Persons) while in actual fact that these people should be called FDDPs (Forcibly Displaced and Detained Persons)", Mangala Samaraweera, the leader of the dissident group of the Sri Lanka Freedom Party (SLFP), said.
Samaraweera said so during the debate on a supplementary estimate of Rs 350 million for the Ministry of Resettlement for the welfare of the IDPs Tuesday, according to parliamentary sources.
Samaraweera, one time Foreign Minister under the incumbent President Mahinda Rajapakse, further said that the only 'crime' these unfortunate persons have committed is to have been born in an area, which was under LTTE control for nearly two decades.
The MP said the President must recognize the right to return of the people and the people must be allowed to go to their original place or the place of their choice.
"The resettlement must start immediately and it must be done under the supervision of an all-party committee of Parliament," Mr.Samaraweera said.
(For updates you can share with your friends, follow TNN on Facebook, Twitter and Google+)