At UN, Miliband and Kouchner in Sri Lankan Meeting Friday, Japan Says It's Resolved
On the opening day of the UN General Assembly, UK foreign minister David Miliband told the Press that he and his French counterpart Bernard Kouchner will have a "joint meeting" with the Sri Lankan foreign minister on Friday. As Miliband spoke with mostly British reporters about the statement he had just read out on camera about Iran, Inner City Press asked what if anything the UK was doing about Sri Lanka during this UN General Assembly week.
Miliband said, "I am certainly having a meeting with the Sri Lankan Foreign Minister… Bernard Kouchner and I are jointing meeting him." Inner City Press asked what would be raised or asked for at the meeting. Miliband turned to one of the British journalists and said, this would be good clip for you.
Then he answered, that "Mr Kouchner and I, when we went to Sri Lanka, got very clear commitments from the president of Sri Lanka, about IDPs and a host of related issues and we're following up those commitments." If follow-up is what it's about, one will expect a read out from the UK Mission, or even the French.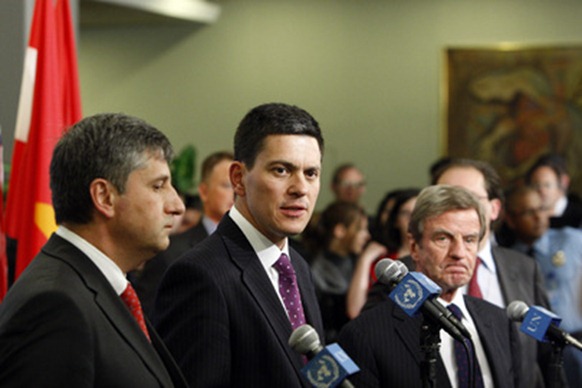 UK's Miliband and sidekick Bernard Kouchner, Sri Lanka read out not yet shown
The Japanese, meanwhile, dodged Sri Lanka questions for the second time this week. Inner City Press asked Kazuo Kodama, Press Secretary for the Prime Minister of Japan, for his country's position on the IDP camps and, one assumes, the same "host" of related issues Miliband referred to.
(For updates you can share with your friends, follow TNN on Facebook, Twitter and Google+)