As If at UN, Sri Lankan PM at Asia Society Faces Pre-Screened Softball Questions
Sri Lanka's prime minister Ratnasiri Wickramanayake spoke Thursday night at the Asia Society on Park Avenue in Manhattan, facing pre-screened softball questions gently raising the internment camps and freedom of the press. Even so, Wickramanayake responded testily, drawing partisan applause from the otherwise silenced auditorium.
Several facts were plainly misrepresented. The Asia Society's questioner — who multiple times and accurately said, "I am by no means an expert on Sri Lanka" — asked if the International Committee of the Red Cross has access to all the IDPs. Yes, Wickramanayake replied. But the ICRC has complained of no access to at least 10,000 people.
Then Wickramanayake said that two ICRC staffers were found to have "direct" ties to the LTTE and were arrested. Presumably he was referring to the two UN system staff, a question that Inner City Press wrote on a note card that was never read out by the moderator. Nor was a question about the GSP Plus tax benefit in Europe, which Sri Lanka stands to lose for human rights violations.
The evening got off to a surreal start with the present of the Asia Society, Ms. Vishakha N. Desai, saying without qualification that the Sri Lankan government means well. Then Wickramanayake delivered a sort of speech. He said "our country is nourished by Buddhism." He spoke of opportunities for investors, tourism on Eastern beaches.
Then the Asia Society's Executive Vice President Jaime Metzl took a seat and began lobbing softball questions. He said, let's turn back to Sri Lankan independence, to 1948. Wickramanayake became testy, and not for the last time. "Let us forget the past," he snapped. We want to look to the future.
EVP Metzl ever so gently raised the issue of the IDPs. Wickramanayake said the only problem is demining. "We were going it manually," he said, "until quite recently." He said now some machines have arrived. "It would have taken years," he said.
So what did Mahinda Rajapaksa's commitment to Ban Ki-moon in May, to resettle 80% of the IDPs by the end of the year, mean? One of the two is dissembling.
Metzl read out a question submitted only, "anonymously," he pointed out.  took issue with why anyone would be anonymous. He said there are no problems of freedom of the press. When an audience member shouted out, "twenty years of hard labor," they were shouted down by a person sitting up in the front, in the reserved seat. Sri Lanka's Ambassador to the UN was observed up there. In front of the Asia Society, a fleet of blank four by fours were parked, with the Sri Lankan flag on their windshield. Entourage!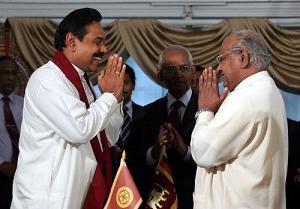 As Wickramanayake pontificated, about former LTTE supporters put in charge in the East, EVP Metzl nodded and said, as if involuntarily, uh huh, uh huh, while nodding his head. He let slip that he had just returned from Afghanistan, and that his father was an IDP for ten years after World War II.  He named El Salvador as a country with a past of ethnic conflict. (Actually, there it is social class, we'll cite Roque Dalton.) Metzl's high point, he let the audience know, was getting an empty commitment from Wickramanayake that the Red Cross could contact his office. "And the Ministry of Defense," Wickramanayake quickly added. Of course.
The questions got more and more lame, culminating with "what do you pray for every night?" Wickramanayake answered, testy to the end, "I don't want to disclose that." Then the Asia Society whisked him and his entourage through a door, presumably to a reception, and the audience filed out.
(For updates you can share with your friends, follow TNN on Facebook, Twitter and Google+)