NGOs hold parallel meeting at UN Human Rights Council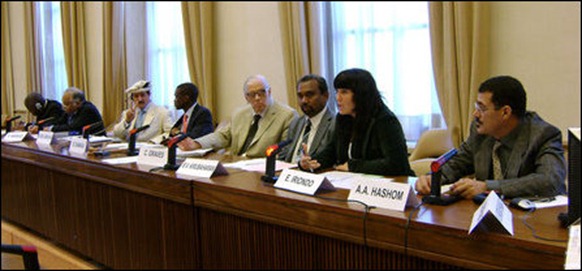 Switzerland-based ECOSO NGO Interfaith International in Geneva, organized an open dialogue on the theme "War against terrorism and human security – consequences of the failure of state machinery and policies" as a parallel event to the 12th session of the UN Human Rights Council, Friday, where the panelists were drawn from well known academics, lawyers and human rights activists from various parts of the world, sources in Geneva said. The event was co-sponsored by the Himalayan Research and Cultural Foundation and the Al-Hakim Foundation.
Prof K. Warikoo from Jawaharlal Nehru University, New Delhi, Dr A. A. Hashom, representative of the Al-Hakim Foundation, Ms Edurne Iriondo, Basque Observatory of Human Rights, Mr S. V. Kirubaharan, General Secretary of the Tamil Centre for Human Rights and Prof D Fweley, writer and political analyst spoke at this event moderated by Mr. Biro Diawara, the UN representative of Interfaith International.
Mr Kirubaharan addressed general issues on human rights, and the rights violations in Sri Lanka that occurred specifically in the first five months of Sri Lanka military offensive in the NorthEast. He added that Sri Lanka Government routinely opposes and denies acts of rights violations by the security forces, and said that currently the Government is under unprecedented pressure to conduct investigations and establish accountability for the violations, some of which have been called war-crimes by United Nations High Commissioner for Human Rights, Navi Pillay.
The meeting was attended by many diplomats, NGO representatives, and UN officials.
(For updates you can share with your friends, follow TNN on Facebook, Twitter and Google+)