Tissainayagam, a prisoner of conscience – paper, Amnesty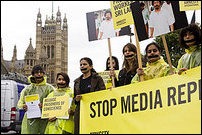 Arrested without a warrant, incarcerated without detention order, refused to see a lawyer for more than two weeks after arrest, denied privacy of conversation with his attorney and his wife while under detention, and held without charge for more than 5 months, and now sentenced by Sri Lanka's high court for 20 years in prison, Jayaprakash Sittampalam Tissainayagam, a Sri Lanka's Tamil journalist, "became a symbol of [Sri Lanka] government repression and a martyr for freedom of the press. To many observers, Tissainayagam's treatment cemented Sri Lanka's reputation as a totalitarian state in the making," Sunday Leader said in its weekend edition. Tissainayagam was chosen by President Obama as an emblematic example of persecuted journalists.
Amnesty International named Tissainayagam as a Prisoner of Conscience, held a vigil in UK in early September, and said "[w]e gathered to protest against the sentencing of Jayaprakash Sittampalam Tissainayagam, known as Tissa to his friends and family, to 20 years 'vigorous imprisonment' by the Government of Sri Lanka."
Full text of the article in Sunday Leader titled "A Travesty of Justice" follows:
Seventeen months after being arrested, and almost three years after writing two articles the government claims were meant to incite "communal disharmony," journalist J.S. Tissainayagam was sentenced to 20 years of rigorous imprisonment on August 30 by the Colombo High Court.
Tissainayagam's conviction drew worldwide condemnation, with Amnesty International declaring him a "prisoner of conscience," and Reporters Without Borders calling the sentence "shameful." Almost overnight, Tissainayagam became a symbol of government repression and a martyr for freedom of the press. To many observers, Tissainayagam's treatment cemented Sri Lanka's reputation as a totalitarian state in the making.
How did Tissainayagam go from being a humble columnist for The Sunday Times to being mentioned by American President Barack Obama as an "emblematic example" of persecuted journalists?
The story began in February of 2008, when he wrote an article about child recruitment for The Sunday Times. Soon afterward, Terrorism Investigation Department (TID) officers were dispatched to arrest Tissainayagam's publisher, N. Jasikaran, and his wife Valamarthi. When Tissainayagam inquired about Jasikaran's whereabouts on March 8, he too was arrested, along with the staff of his website, OutreachSL.com. (The staff members were later released).
The only problem was that the TID had neither a detention order nor anything to charge Tissainayagam with. Fortunately for the government, a search of Tissainayagam's house turned up about 50 back issues of Northeastern Monthly, a now-defunct magazine with a small circulation that Tissainayagam then edited. Although they couldn't read English, as was revealed during Tissainayagam's trial, the TID officers confiscated these magazines, and the TID later used them as a convenient pretext for Tissainayagam's arrest and prosecution.
Strange delays: Tissainayagam's imprisonment was a travesty of justice from beginning to end. When he was finally allowed to see a lawyer, two weeks after first being arrested, he could only do so in the presence of the Officer in Charge (OIC) of the TID. The same condition held for meetings with his wife; Tissainayagam has never met his wife in private since his arrest. Since he never received an explanation for his imprisonment, Tissainayagam quickly filed a Fundamental Rights petition challenging his incarceration.
On March 27, 2008, during Tissainayagam's first court hearing, the state counsel said they didn't have the detention order in their possession, so High Court Judge Deepali Wijesundara ordered it to be produced. Later that afternoon, the order was delivered to Tissainayagam, backdated to March 7th. Strangely enough, the detention order was signed by Wijesundara's sister. Although this is not technically illegal, the defense could have asked the judge to recuse herself from the case given this incident's strong appearance of impropriety. (Wijesundara's sister was later promoted to the High Court.)
On May 8, 2008, Tissainayagam's lawyers finally received the OIC affidavit and a copy of Tissainayagam's statement translated into Sinhalese. Crucially, however, the state withheld Tissainayagam's original statement, which he wrote in Tamil. The defense would only get a look at the original confession during the cross-examination of the superintendent of police, who witnessed Tissainayagam writing it. According to the Emergency Regulations of 2005, detainees must be produced before court every 30 days to ensure that they haven't been tortured, but the state disregarded this law time and again for Tissainayagam.
On May 12, 23, and 26 of 2008 Tissainayagam was scheduled to be produced at the Magistrates Court, but mysteriously failed to turn up. He was finally produced on the 27th, when the TID legal officer told the court that he needed more time to investigate. The magistrate ordered Tissainayagam to be produced on June 6, after his 90th day of detention.
Unsurprisingly, the state was unable to produce him on that day either, managing to delay his court appearance until June 13.
Tissainayagam charged: Ultimately, Tissainayagam would have to wait for over five months before he was charged, under the Prevention of Terrorism Act (PTA), for inciting racial violence and communal disharmony by writing two editorials in 2006 for Northeastern Monthly. The first article, published in July 2006, criticized the government for failing to protect the northeastern Tamils, who Tissainayagam argued were being forced to seek protection from the LTTE.
The second article, published in December of the same year, accused the army of deliberately bombing and starving Tamil civilians in Vaharai in an attempt to clear the area for military operations. In a statement to the court, Tissainayagam defended his writings: "I was and am still an advocate against terrorism," he said. "I have criticized terrorism in whatever form…my objective was to generate non violent means of resolving the conflict."
The indictment consisted of three charges: (1) that Tissainayagam printed and distributed the Northeastern Monthly with the intention to "cause the commission of acts of violence or racial or communal disharmony and bring the government into disrepute"; (2) that Tissainayagam wrote the two above-mentioned articles, excerpts from which were reproduced in the indictment; and (3) that to fund the Northeastern Monthly, Tissainayagam collected money "for the purpose of terrorism."
The state claimed during the trial that Tissainayagam had confessed to accepting funding from the LTTE. Tissainayagam has always maintained that the "confession" was dictated to him and that he was forced to sign it under threat of torture. He believed the TID's threats because he had heard his publisher, Jasikaran, being tortured in a nearby room. (Jasikaran recently testified about his torture during his own trial, which is ongoing.)
Despite the dubious circumstances surrounding Tissainayagam's "confession," Judge Wijesundara ruled on December 5, 2008 that it was given voluntarily. The defense chose not to challenge this ruling, not knowing what was in Tissainayagam's original statement.
Mysterious alteration: When the defense finally got a look at the original document, during cross-examination of the superintendent of police, it quickly became apparent that the statement had been doctored. In the statement, Tissainayagam admits that LTTE officials contacted him three times in 2006 to offer money to the Northeastern Monthly, but that each time he had refused. "However," he wrote in Tamil, "I later discovered that Rs. 100,000 had been deposited in my bank account from an anonymous donor."
But where Tissainyagam had written that he said "no" to the LTTE for the third time, his words had been crossed out and replaced with "I said yes," making it sound like he had accepted the LTTE's money. The change to the statement was made in a different color of ink and in different handwriting than the original statement. Unlike the many other changes to the statement, Tissainayagam had not signed in the margin to approve this alteration.
As the defense pointed out, after the alteration the statement no longer made sense. Why would Tissainayagam, after admitting he had agreed to receive the money, then be surprised to find it in his account? Why use the word "however," which implies that he had turned down the offer? When the defense brought these irregularities to Wijesundara's attention, she said that she had already ruled the statement voluntary, and therefore couldn't throw it out.
She also disputed the defense's claim that the document was altered. This decision paved the way for Tissainayagam's ultimate conviction. As Wijesundara notes in her judgment, "once the confession is voluntary, the accused could be convicted on the confession alone."
In her judgement, Wijesundara also mentions that one of the defense's witnesses, Kulasiri Hemantha Silva of the Human Rights Commission, contradicted what Tissainayagam wrote in his second article. On cross-examination, Silva stated that he had not seen the bombing and starvation of civilians in Vaharai. However, the defense later got Silva to admit that he had traveled to Vaharai two months before the article was written, and therefore wasn't able to say what was happening at the later time. Silva also admitted that he had heard news of a Vaharai hospital being bombed by government forces around the time Tissainayagam was writing.
In his statement to the court, Tissainayagam said that he grew up in Colombo with friends from every ethnic group, and that throughout his career as a journalist and human rights activist he has "always agitated for justice for the oppressed." He concluded his statement by saying that by writing the two controversial articles he "never intended to cause violence or communal disharmony and no such thing ever occurred as a result of those articles." The whole world, with the obvious exception of the Colombo High Court, now stands with Tissainayagam in agreement and solidarity..
TamilNet: 27.09.09 Tissainayagam, a prisoner of conscience – paper, Amnesty
(For updates you can share with your friends, follow TNN on Facebook, Twitter and Google+)