As Sri Lankan IDPs Shot, UN's Pascoe Says Camps To Be "Thinned Out," Council Should Meet
Just after the Sri Lankan Army shot people leaving the Manik Farms camps in Vavuniya, Sri Lanka's Prime Minister, Foreign Minister and Secretary of Defense met in New York with the UN's highest officials.
Afterwards, Inner City Press asked the head of the UN's Department of Political Affairs Lynn Pascoe about the shooting incidents, whether the Sri Lankan Army's web site had misquoted him, and why the UN had not convened a meeting about Sri Lankan during the last week's General Debate. Video here, from Minute 55:49.
Of the shooting, Pascoe attributed it to overcrowding in the Manik Farms camps, saying "they need to be thinning it out." He acknowledged that the Sri Lankan Army had put a "different spin" on what he said during his visit this month. Inner City Press asked about the headline "You have better story than is getting out today – Pascoe to President." Inner City Press asked this question ten days ago, without getting any answer.
Pascoe said he was only been referring to de-mining, that he was "surprised" he was quoted "for saying things quite in the way that [he] had said them." But why didn't the UN seek a correction then, as it has when for example Sudan characterized what the UN told them in a bilateral conversation?
Pascoe said that the meeting with Defense Secretary (and Presidential brother) Gotabhaya Rajapaksa, Prime Minister Ratnasiri Wickramanayaka and Foreign Minister Rohitha Bogollagama was attended not only by Ban Ki-moon, but also by John Holmes and Vijay Nambiar.
As Pascoe sought to turn to another questioner, Inner City Press reminded him of the unanswered question of why the UN had not set up a meeting during the General Debate, as it did on Myanmar, Somalia and other countries.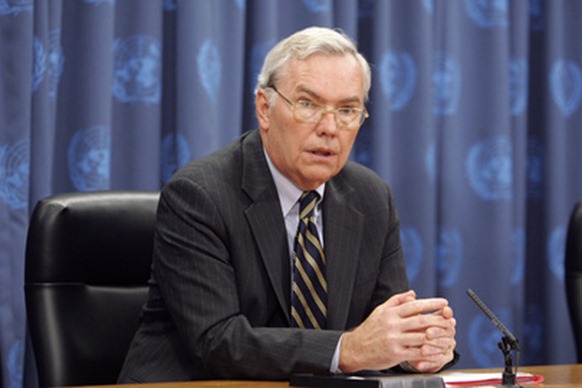 UN's Pascoe on Sept. 28, Sri Lanka's "different spin" not shown
Pascoe said there had been some thought "early on" of convening such a meeting about Sri Lanka, but it didn't happen. He added that "it is important for the Security Council to discuss… in their rooms or in the basement." Well, the UN Charter provides for the Secretary General to convene a Security Council meeting, under Article 99. Watch this site.
(For updates you can share with your friends, follow TNN on Facebook, Twitter and Google+)