At UN, Ban Cannot Stop Sri Lanka's Shooting, Blake's Visit, Report Mid-October
In the wake of the Sri Lankan Army shooting at least two children on the margins of the Manik Farm "Internally Displaced Persons" camp in Vavuniya, Inner City Press on Tuesday asked UN Secretary-General Ban Ki-moon if, in his September 28 meeting with three Sri Lankan ministers, he sought or gained any commitment for non-use of lethal weapons on unarmed IDPs. Video here, from Minute 32:40.
Mr. Ban proffered a more than 150 word answer, but did not mention any such commitment, even seeking one. He rattled off "three points" — in essence, resettlement, reconciliation and accountability — and said "they committed that they will do as we have agreed. But we have to have a close watch and monitor this process."
  But will they keep shooting unarmed civilians, including children?
Speaking of war crimes, Inner City Press has continued to inquire into the reason for the delay in the U.S. Department of State's report on war crimes in Sri Lanka, which was due in Congress on September 21. On September 29, a U.S. official on background told Inner City Press, "We are still working on the report. Congress has extended the submission date. We expect to submit the report to Congress in mid-October."
This would tend to rebut reports Tuesday in the Sri Lankan press that the report is delayed "indefinitely," with assistance to the Rajapaksa administration from Israel, citing "the real assets of the Sri Lankan Air Force driving Eelam War 1V were the new Spy planes. Several Cessna 421 , Golden Eagle and two 'Beechcraft' super King crafts were bought from the United States for maritime and ground surveillance . Close ground surveillance was carried out by Israeli IAI searcher MK 11 and EMIT Blue Horizon 2 unmanned aerial vehicles."
  While the arming may be true, the full disarming of the report does not appear to be.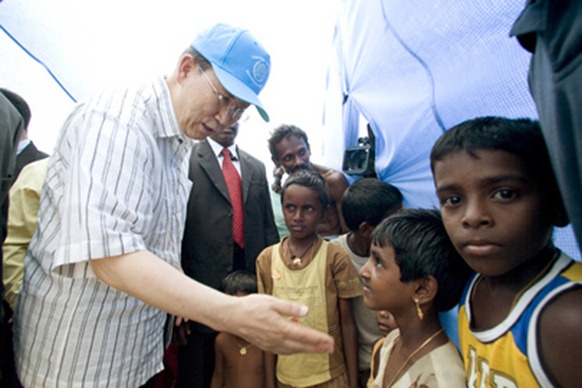 UN's Ban and children in IDP camps in May, SLA shooting not shown
Just after Mr. Ban's press conference, Inner City Press observed what seemed to be U.S. Assistant Secretary of State for South and Central Asian Affairs Robert Blake entering the elevators on the UN's second floor. Later in the day, Mr. Blake graciously confirmed to Inner City Press that he was at UN headquarters, holding meetings on the margins of the General Assembly and Tuesday meeting with UN colleagues on the countries in his area of responsibility — which includes Sri Lanka. We hope to have more on this.
(For updates you can share with your friends, follow TNN on Facebook, Twitter and Google+)