Kamal speaks warmly of friendship with Rajini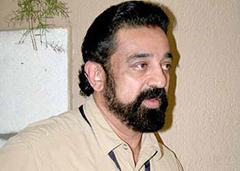 Such a function is a rare one indeed. Vijay TV celebrated 50 years of Kamal's cinema career. Many south Indian stars participated in the function and the friendly reminiscences of Kamal and Rajini was an unforgettable experience.
Rajini felicitated Kamal on the occasion. "I would need 2 days to speak about Kamal. He was already a superstar in Tamil films in 1975 when I entered films. Those days we have co-starred in films too. In fact it was Kamal who recommended me to act in 'Illamai Oonjaladukiradhu.' If he wanted to, he could have stopped my rise in films. 'Ninaithaale Inikuum' was the last film in which we co-starred. Kamal told me then that we should not co-star any more in films, if we wanted to make individual names for ourselves. He suggested that I should work at rising up in my career.
He warned me to be careful and encouraged me. He also generously told me that though we may part as co-stars, I could use artistes from his films and he would use artistes from my films. Only by watching Kamal films have I come this far. Our gurunathar K Balachander would be directing the two of us in a film. When Kamal was giving his shot, instead of watching him act, I would go out for a smoke. Gurunathar would search for me. When I returned he would ask me if I had gone out for a smoke, and why could I not stay back to watch Kamal act and learn from that.
After that, I would not slink away to smoke but would watch Kamal giving his shots. Kamal has his own chosen both. I had to use my brains to carefully choose my path. I am acting in 'Endhiran' that Kamal should have acted in. Shankar had readied the film for him. But certain delays decided otherwise. Kamal is really a Sakalakala Vallavan."
Kamal gave his concluding address: "I expected a small function, but this has turned out so grand. It is the regard you all have for me that has brought me this far. Your affection is responsible for my progress. I entered film field with a lot of dreams. But nothing has been realized. I could not realize them.
I have completed 50 years in cinema with all your affection and blessings. Rajini has elevated me and put himself in a lower spot. But he really is the superstar. We share a deep friendship between us.
(For updates you can share with your friends, follow TNN on Facebook, Twitter and Google+)