McDonagh on Sri Lanka: 'Watch Channel 4 News' – Channel 4 News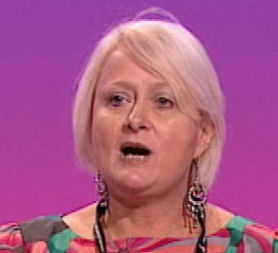 Addressing the final day of the 2009 Labour party conference, former Labour whip Siobhain McDonagh MP draws attention to Channel 4 News's coverage of events in Sri Lanka.
The Labour party conference in Brighton turned its attention to the aftermath of the civil war in Sri Lanka today.
In his speech, Foreign Secretary David Miliband said –
"In those democracies, like Sri Lanka, where civil war claimed lives and liberty, we say governments have a duty to uphold the civil, social and political rights of all their citizens, whatever their ethnicity or religion."
The conference went on to debate – and pass – a resolution which condemned "the detention by the Sri Lankan government of 300,000 men, women and children" as inhumane.
The resolution also called for journalists to be allowed to enter Sri Lanka and report what is happening in the camps, and for the withdrawal of Sri Lanka's favoured trading status.
Debating the resolution, former Labour whip Siobhain McDonagh described Sri Lanka as "a country where we can see on Channel 4 News young men, naked and bound, shot at close range."
On 25 August Channel 4 News broadcast footage which appeared to show Sri Lankan forces executing Tamils.
The footage allegedly dated from January of this year, several months before Sri Lanka declared victory over the Tamil Tigers after a civil war that had lasted more than a quarter of a century.
Sri Lanka's government disputed the authenticity of the footage, but it nonetheless prompted the United Nations to call for an investigation. UN rapporteur Philip Alston remarked: "This videotape seems to have most of the characteristics of a genuine article."
On 7 September Channel 4 News broadcast new film which appeared to reveal the victims of Sri Lanka's war, suffering poor conditions in UN-funded camps.
(For updates you can share with your friends, follow TNN on Facebook, Twitter and Google+)