Plea to free war displaced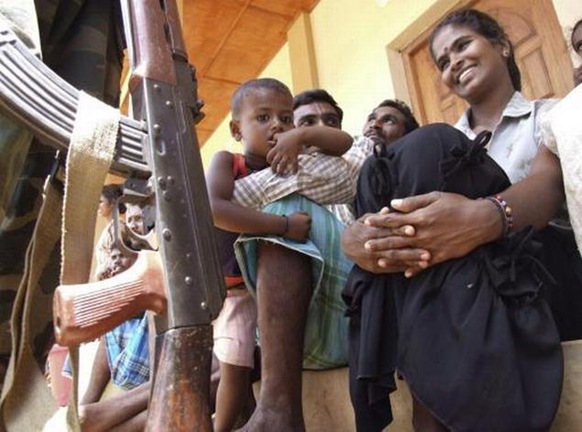 Political parties and other organisations in Sri Lanka on Thursday urged the Mahinda Rajapaksa government to take steps for the early release of the nearly 2.5 lakh war displaced housed in government-run relief camps and throw open the camps for relatives and friends of the displaced.
In a joint statement here, they said "such collective and unbearable pain of large numbers of our population" compels immediate intervention.
Signatories to the statement are V. Anandasangaree, leader of the Tamil United Liberation Front; Mano Ganesan, leader of the Democratic People's Front; Rauff Hakeem, leader of the Sri Lanka Muslim Congress; K. Vigneswaran of the Akhila Ilankai Tamil United Front; and R. Sampanthan representing the pro-LTTE Tamil National Alliance.
Titled "Let Our People Free!", it said: "The Tamil speaking peoples of Sri Lanka have suffered great hardships for many decades since Independence. They have faced discrimination and had to suffer ethnic riots, pogroms and ethnic cleansing; in the pogrom in 1983 sections of the state were involved".
"In the last thirtyfour years Sri Lanka was consumed by an ethnic civil war in which the Tamil and Muslim people and others in the North and East and elsewhere were victims. The Tamils in particular bore the brunt of the suffering. During the last stages of the war the people of the Vanni suffered traumatic pain which, despite the conclusive end of the war, has still not abated."
They said that the forcible detention of hundreds of thousands of Tamil citizens of Sri Lanka in camps for Internally Displaced Persons was illegal and should be released immediately to return to their homes and permitted to resume without hindrance their traditional livelihood activities such as farming and fishing, or to take up residence with friends and relatives, or to exercise their lawful right to abode elsewhere at their discretion.
"Those likely to face criminal charges should be produced in a court of law without further delay. We strongly urge that the camps, for so long as they exist, should be open to relatives, religious functionaries, parliamentarians, provincial councillors, civil society, U.N. agencies, journalists, and national and international aid and humanitarian organisations".
They further urged that immediate arrangements be made to allow the Muslim people who were evicted from the North and have suffered acute hardships for nearly two decades to return to their homes and to resume their economic and social activities without hindrance.
Meanwhile, the Defence Ministry said that a former member of Singapore's Reform Party, Balraj Naidu, had been arrested and produced in court for an extradition hearing over an alleged arms deal with the LTTE.
"He is also wanted by the United States government on terrorism related charges including allegedly brokering arms deals with the LTTE. No formal charges have been laid against him so far," it said.
(For updates you can share with your friends, follow TNN on Facebook, Twitter and Google+)