Clinton's rape bombshell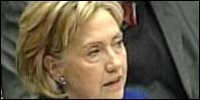 US Secretary of State, Hilary Clinton, chairing the United Nations Security Council meeting Wednesday, on the last day of US's turn of the rotating presidency of the 15-member body in September, on violence against women in warfare, dropped a bombshell on Sri Lanka by including Sri Lanka in the company of Congo, Sudan, and Mayanmar, saying Sri Lanka has used rape as a weapon of war [against Tamils], thereby adding another incriminating legal element to mounting woes of the Sri Lanka Government from allegations of war-crimes for slaughtering more than 20,000 Tamil civilians, and incarcerating more than 300,000 Tamils with little freedom of movement in military supervised internment camps.
Courtesy: Channel-4: For Sri Lanka's mention
move to 8:00 min.
"Now, reading the headlines, one might think that the use of rape as a tactic of war only happens occasionally, or in a few places, like the Democratic Republic of the Congo or Sudan. That would be bad enough, but the reality is much worse. We've seen rape used as a tactic of war before in Bosnia, Burma, Sri Lanka, and elsewhere. In too many countries and in too many cases, the perpetrators of this violence are not punished, and so this impunity encourages further attacks," Ms Clinton said.
Clinton emphasized that sexual violence is "an important issue that goes to the core of our commitment to ensure the safety of the United Nations member-states and their citizens. Under the UN Charter, the 15 members of this Council bear primary responsibility for maintaining international peace and security. Now, satisfying that responsibility includes us to protect the lives and physical security of all people, including the women who comprise half the planet's population. This responsibility is particularly acute in circumstances where peace and stability are challenged." She said that rape "shreds the fabric that weaves us together as human beings."
Responding to Ms Clinton's statement, Sri Lanka's Defense Ministry website carried a refutation, saying "such sadistic allegations are far from the existing realities: far from the truth," and added that "there was no basis whatsoever even to suggest Sri Lankan forces had involved in such gross violence during its three-year humanitarian campaign."
"The government vehemently condemns the statement and wishes to declare that it is an irresponsible statement made deliberately to tarnish the image of Sri Lanka and also it appears to be a part of a vicious political agenda," Defence spokesman Keheliya Rambukwella told reporters.
"But record indicates, systematic rape of Tamil women in custody, in areas under control of Security forces, and sexual abuse of LTTE women cadres caught during combat, had occured from as early as September 1996 of Krishanthy Kumarasamy who was murderd after being stopped and raped at an SLA sentry point at Kaithadi, Jaffna. Horrendous videos showing Sri Lankan soldiers abusing women cadres stripped naked have routinely surfaced," said activist for a Washington-based pressure group.
The link between maintaining international peace and security, and preventing and responding to sexual violence used as a tactic of war to target civilians was first laid out in last year's UNSC resolution 1325.
President Obama buttressed Clinton's address in a communique issued by the Whitehouse saying, "violence against women and children will not be tolerated and must be stopped. The United States places a high priority on this issue of fundamental human rights and global security…The dignity of all human beings must be respected, and their rights protected."
Commenting on the unanimous adoption of a Resolution to Combat Sexual Violence in Armed Conflict by the UN Security Council, President Obama noted that "[i]n particular, the resolution focuses on one of the most abhorrent features of modern war: the use of rape as a weapon, and other forms of sexual violence against women and children."
(For updates you can share with your friends, follow TNN on Facebook, Twitter and Google+)