Britain tells Sri Lanka to free Tamil prisoners before disease kills them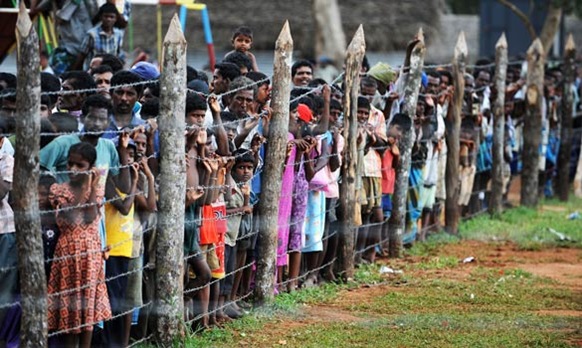 Sri Lanka urged to free 250,000 Tamils detained in camps warning that monsoon rains could cause outbreak of disease
Britain urged Sri Lanka today to free 250,000 Tamils detained in camps since the defeat of the Tamil Tigers in May, warning that an outbreak of disease triggered by imminent monsoon rains could claim dozens of lives.
Mike Foster, the Minister for International Development who is visiting Sri Lanka, also said that Britain would no longer provide any funding for the controversial barbed wire enclosures once the monsoon was over in two months.
He added that many other donor countries were taking a similar position to put pressure on the Government to release the 250,000 Tamils who were detained after fleeing the frontline in the last stages of the 26-year-civil war.
"There's a pressing need, with the monsoon impending, to get civilians out of the camps," Mr Foster told The Times after visiting two of the camps ahead of meetings with Sri Lankan officials in Colombo today.
He said the monsoon, which is due to start this month, was almost certain to destroy tents already fraying after six months' use, and to overload the camps' rudimentary sewage systems, causing a flood of raw human waste.
"Disease, if it takes hold, is going to spread rapidly. Without doubt there will a loss of life," he said. "Given that there are 250,000 people living so close together, I'd hazard a guess that it's going to be more than dozens."
Sri Lanka's Government calls the camps "welfare villages" and says it cannot free the inmates until it has screened them all to check for Tigers, and cleared their villages of mines and other unexploded ordnance.
It has repeatedly promised to release 80 per cent of them by the end of the year, and says it has already resettled more than 20,000 so far — although many have been moved to transit camps in their home areas.
But Mr Foster said that progress on resettlement had been "disappointing", that the majority of those in the camps had already been screened, and that moving them to other closed sites was "unacceptable".
"There really is no reason why they can't return. If the gates are opened up, they can be the judge of whether it's safe or not to go home," he said. "That should be a choice for them."
He said that Britain had donated £12.5 million in humanitarian aid since September 2008, much of which had gone towards helping people in the camps. He said another £4.8 million was earmarked for Sri Lanka, and had yet to be spent.
But Mr Foster said that the British Government would rather spend it on resettling the displaced and would not provide any more funding for the camps unless there was a severe humanitarian emergency during the monsoon.
(For updates you can share with your friends, follow TNN on Facebook, Twitter and Google+)