S Lanka pledge on refugee camps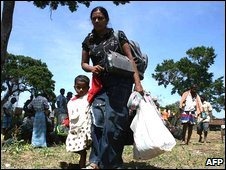 The Sri Lankan government says it is taking measures to ensure that the camps housing refugees will cope with the onset of monsoon rains.
UN agencies have expressed concern that the camps will flood, and the thousands of people in them will have no access to clean water.
In August, sudden storms flooded many of the vast camps, submerging toilets and contaminating water.
Thousands of makeshift homes were also damaged in the rainfall.
Now the Sri Lankan government says it is rapidly installing drainage systems in the camps ahead of the monsoon.
About 10% of refugees have been allowed to leave, and the government says it intends to resettle most of the others by the end of this year.
The government is still coming under domestic and international pressure over the huge closed camps in Vavuniya district, which Tamil war refugees cannot freely leave.
'Serious threat'
Last week a top UN expert on refugee affairs, Walter Kaelin, visited them and expressed many concerns, saying for instance that low areas are likely to flood in the imminent monsoon causing "serious threats to health and life".
Sri Lanka's human rights minister, Mahinda Samarasinghe, said drainage culverts and pipe systems were being rapidly put in place with some UN help.
But the UN, and the Sri Lankan opposition, would much prefer the refugees to be let out of the camps more quickly, rather than being kept inside even with improved drainage systems.
A prominent Tamil politician, Mano Ganesan, told the BBC he was worried that the camps were being made permanent or semi-permanent.
The government has said it is taking very seriously an incident nine days ago in which soldiers guarding the camps fired, injuring at least two people who were trying to move from one camp zone to another.
A senior official said such movements were now allowed but it seemed that in this instance some soldiers felt they were being threatened.
(For updates you can share with your friends, follow TNN on Facebook, Twitter and Google+)