At UN, Questions of Rain and Sri Lanka's Camps, of Elections and Interruptions
As deadly rains and storms sweep through Asia, Inner City Press on Tuesday asked top UN humanitarian John Holmes what is being done about the UN funded internment camps in Northern Sri Lanka. Video here, from Minute 22:29.
Holmes replied, "especially about Manik Farm," that beyond digging drainage ditches, the plea is to "get people out," whether to their homes or to host families or even to "transit camps… as long as they are open." Video here, from Minute 24:36.
The last part of Holmes answer referred to the trend of even those who are moved out of Manik Farms simply being taken to other camps, further out of the spotlight. While the government brags that in some cases, people are given "day passes" to go out of these transit camps, this would tend to show that even the government acknowledges that such people have been "screened" and are not a threat.
Why not just release them, then? Some allege that the continued detentions, and also the move-arounds, are not unrelated to the elections. There's been a lot of talk about irregularities in Afghanistan, but not yet on Sri Lanka. Watch this site.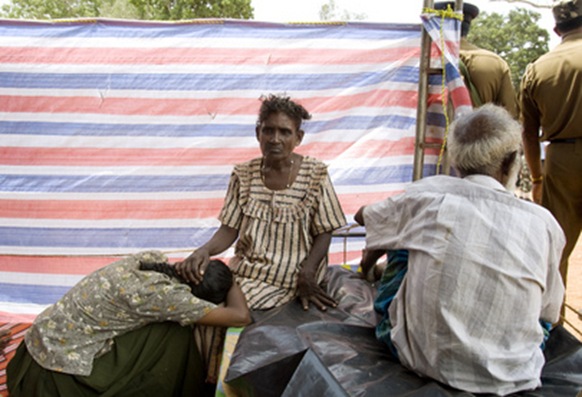 In Manik Farm camp in May awaiting the UN, monsoons loom
Footnote: When Holmes comes to speak to the UN press corps, he has jokingly said he knows the Press will ask him about Sri Lanka. But on Tuesday when Inner City Press began to ask about the Manik Farm camps — after other series of questions were allowed about Yemen and Pakistan — the moderator tried to cut Inner City Press off. Video here, from Minute 22:27.
(For updates you can share with your friends, follow TNN on Facebook, Twitter and Google+)