World Agenda: West finally gets tough over Sri Lankan camps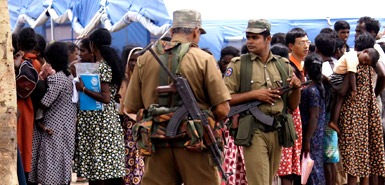 Western governments have finally discovered what remains of their backbone over Sri Lanka.
Britain told the Sri Lankan Government today that it would no longer fund routine services inside the camps where more than a quarter of a million ethnic Tamils have been detained since the defeat of the Tamil Tigers in May.
Mike Foster, the Minister for International Development, who is visiting Sri Lanka, said that many other donor nations were taking a similar stand to put pressure on the Government to release the inmates before the imminent monsoon rains, which could cause a massive outbreak of disease in the overcrowded conditions.
Sri Lanka will be angry and will not agree to Mr Foster's call for all 260,000 of those being held to be freed immediately.
But by taking a public stand — apparently in co-ordination with other donor nations — Britain has at last made it clear that there will be real consequences for Sri Lanka if it breaks its promise to free 80 per cent of detainees by the end of the year.
After all, foreign donors have already provided $195 million of aid for the displaced, almost all of which has been channelled into the camps, and Sri Lanka needs $225 million more — a bill it cannot afford to foot on its own.
This has always been one of the few effective tools that Western countries could use to influence the Government's conduct in the latter stages of the war and its aftermath. The question that needs to be asked — if only to avoid crises such as this one — is why it took so long to use it.
Ever since Sri Lanka announced plans to open the camps in February, it was clear that they were going to be controversial, possibly illegal. Officials admitted that they would be surrounded by barbed wire and guarded by the Army and that detainees would not be allowed to leave until they had been "screened" to check that they were not Tigers.
Tamil MPs and activists denounced them as "concentration camps". At the time, the Department for International Development(DfID) in Britain told The Times: "Prolonging the displacement of this vulnerable group of people is not in anyone's interests. There is no UK government money going into the camps."
However, once the flood of refugees from the front line began, Sri Lankan authorities channelled all foreign humanitarian into inside the camps, which it calls "welfare villages".
That presented donors with a Catch-22: either they became complicit in the forced internment of a quarter of a million civilians, or they failed to provide them with any humanitarian assistance.
The Sri Lankan Government correctly calculated that this would be especially tricky for Britain, which has a large ethnic Tamil population and faced enormous public pressure to help the Tamil victims of the war. Not surprisingly, Britain capitulated and started to provide millions of pounds in funding for the camps through the UN and non-governmental organisations.
For much of this year donors have therefore been using taxpayers' money to fund equipment and services in camps that human rights groups say are an illegal form of collective punishment. An initial flurry of protests quickly faded away: there was hardly any international outcry when Sri Lankan troops opened fire on inmates last month, injuring at least three.
Even today, DfID refuses to use the terms "internment camp" or "detention camp". It calls them "camps where civilians are detained".
What has prompted it to take a stand now is not the legal or moral argument against the camps, but the risk of being complicit in more suffering if the monsoon does indeed cause flooding and disease.
There is still a risk that Sri Lanka ignores the donors, keeps the camps open in far worse conditions and blames the international community for the consequent suffering.
(For updates you can share with your friends, follow TNN on Facebook, Twitter and Google+)