I'm angry, fumes Rajini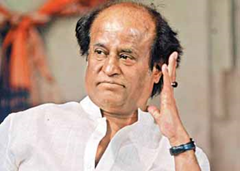 If I was not so angry, I would have had plenty to say. When I'm angry, I speak little. When I'm extremely angry, I won't speak at all. Today, I'm extremely angry." Even in his anger, superstar shows his style.
These are some of the words he spoke at the meeting held to condemn Dinamalar daily paper for featuring blasphemous news. He further added: "Whichever be the publication, whoever the lady that is arrested and taken away, why make her stand, lower her head, take her pic and feature it? They are not making mistakes for the fun of it, but to fee themselves twice a day. Why feature only their pics? Why not feature the pics of others with them? I speak so much only for those who have committed wrong. But seeing such blasphemous news about my friends who have worked hard to come up in life is a shock to me. I did wonder if it was an April Fool joke. I really could not sleep at all that night.
Sripriya, Manjula, Nalini, Seetha are big artistes.
Their parents, husbands, families and we know well about them.
(For updates you can share with your friends, follow TNN on Facebook, Twitter and Google+)