Sri Lanka military budget raised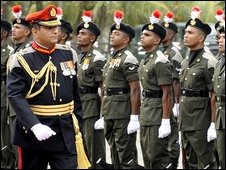 The Sri Lankan parliament has approved an additional 20% budget for the country's military for the remainder of this year.
The government says the cash boost is necessary despite the end of the long-running war in May because the security forces still need strengthening.
That was the government's argument as it pushed for an additional $300m to be added to the military budget.
The extra cash is on top of the record $1.6bn already allocated this year.
The money was approved by parliament which also extended by a further month the country's state of emergency, nearly five months after the end of the war.
The extra revenue is to fund the armed forces' fuel and medical supplies and provide compensation for those who were injured or died.
The army, navy and air force will all benefit.
An opposition politician, speaking in parliament, asked why the extra military budget was needed given the end of the conflict.
Parts of the island remain heavily fortified.
The authorities say they must prevent any resurgence of the defeated Tamil Tiger rebels.
There are plans to set up two major new military bases in areas captured from the Tigers and to increase military surveillance of the north which will last long after the planned resettlement of Tamil displaced people currently interned in camps.
The country is plastered with posters glorifying the armed forces, most of them in the majority Sinhalese language whose speakers constitute the vast bulk of the military.
(For updates you can share with your friends, follow TNN on Facebook, Twitter and Google+)