Tamil refugees should move freely in Sri Lanka: US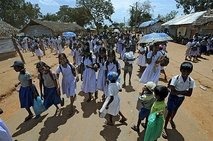 The United States on Friday called on the Sri Lankan government to allow Tamil refugees displaced by recent fighting to move freely around the country.
Assistant US Secretary of State Robert Blake, who is focussed on US relations with central and southern Asia, "emphasized the importance of the government allowing freedom of movement for IDPs," or internally displaced people, read a State Department statement.
While the Sri Lankan government "has made some progress easing camp congestion, registering IDPs, and expanding access by humanitarian organizations, much remains to be done," Blake said.
Blake also "underscored the importance of political reconciliation" in Sri Lanka, where some 250,000 people who were displaced by fighting between troops and Tamil Tiger separatists have remained in the state-run camps since the rebels were defeated in May.
In order to reach a lasting peace, the Sri Lankan government must "promote justice and political reconciliation for all parties and dialogue with all parties, including Tamils inside and outside Sri Lanka, on new mechanisms for devolving power."
Sri Lanka "must also seek to improve human rights and accountability," he said.
Blake met Friday with Sri Lankan-Americans, and urged them to "seek opportunities to channel their resources and expertise toward supporting national reconciliation and the reconstruction of Sri Lanka."
The Sri Lankan government has been widely criticized for holding refugees indefinitely, but it insists it needs time to weed out Tiger fighters hidden among the displaced civilians.
Some 12.6 percent of the island's 20 million inhabitants are of Tamil descent.
The United Nations has said that up to 7,000 civilians may have perished in the first few months of this year when government troops escalated their offensive against the remnants of the Liberation Tigers of Tamil Eelam (LTTE).
(For updates you can share with your friends, follow TNN on Facebook, Twitter and Google+)