Tamils get international recognition in sciences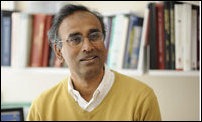 Venkatraman Ramakrishnan, born in Chithamparam, Tamil Nadu is named for Nobel Prize 2009 in Chemistry, Wednesday, for contributing to the knowledge of structure and functions of ribosome, leading to development of direct and more effective antibiotics in medicine. In June, Jaffna-born Sir Sabaratnam Arulkumaran, an old student of Mahajana College, Thellippazhai, was conferred knighthood for his contributions in the field of medicine in Obstetrics and Gynaecology. While such achievements inspire younger generation of diaspora Tamils in making global contributions to humanity, it is also time for the diaspora to forge its own global organization to help itself as well as to remind a dodging IC of its responsibilities to the plight of Tamils. Sir Arulkumaran's Alma Mater, celebrating its centenary next year, is in the military occupied HSZ for years now, being deprived of its population.
Opinion Columnist Ampalam
Dr. Venkatraman Ramakrishnan, now a US citizen, is a Senior Research Fellow of the Laboratory of Molecular Biology of the Medical Research Council, Cambridge, UK.
A physicist turned molecular biologist the 1952-born scientist had his early education at Annamalai University, Chithamparam and at Maharaja Sayyaji Rao University, Baroda.
He is the third Tamil to get the award after C V Raman and S Chandrasekar and the 7th among the laureates of Indian origin. He shares the Nobel Prize with Thomas A Steitz of USA and Ada Yonath of Israel.
Dr. Ramakrishnan who considers awards mean little, boldly came hard on current academic thinking not giving due importance to basic disciplines that actually revolutionize the development process. In his university days, he renounced a medical career to become a physicist.
Sir Sabaratnam Arulkumaran, now a citizen of UK, is Professor and Head of Obstetrics and Gynaecology at St George's, University of London and is the President of the Royal College of Obstetrics and Gynaecology. He was knighted in June 2009. It was a rare distinction for an Eezham Tamil after several decades.
Sir S. Arulkumaran studied at Mahajana College, Thellippazhai in Jaffna, during its heydays in 1960s, under eminent Zoology teachers like Kanagasabapathy under the leadership of T T Jeyaratnam as principal, when the institution made a name in producing medical students. He entered Peradeniya University to do medicine in 1968.
"My parents, who were in Jaffna, felt it was unsafe to live there because of the fighting in their area. They came to live with me in 1986 and stayed for three years before moving to London, where my younger brother's wife was expecting her first baby. My brother, who was affected by the situation in Jaffna, left for the UK in 1978 and settled there," says Sir Arulkumaran on the personal circumstances of his decision to settle in UK, in an interview to SMA News, August 2009.
When Sir Arulkumaran decided to leave Sri Lanka in 1982, it was an earlier Eezham Tamil diaspora in Singapore that provided him the space.
The Kaarainakar-born Professor Kanagasuntharam, Professor of Anatomy of Singapore National University, who left the position to serve the University of Jaffna as its founder dean of the Medical Faculty was his inspiration to go to Singapore. It was 15 years in Singapore that in a way made him what he is today, says Sir Arulkumaran.
The West that enjoys the fruits of such academic geniuses and its media that cares to report diaspora success stories and trivial details such as their interest in golf etc, fail in seeing or making it known how native intellectual roots that produced them are eroded in their home countries.
Both Ramakrishnan and Arulkumaran are products of native educational institutions that were founded as anti-thesis to colonial models of education in pre-independence days, by people like Annamalai Chettiyar the Raja of Chetty Nadu, Maharaja Sayyaji Rao the Maratta ruler of Baroda and Paavalar (Poet) Thuraiappaapillai a native reformer of Jaffna.
Long before Annamalai University was founded and even when the University of Madras, one the first in India, was only in the making, Arumuga Navalar of Jaffna founded an educational institution in Chithamparam, Tamil Nadu, with a dream of making it a native university teaching arts, sciences, agriculture, commerce etc.
Many do not know the current plight of the two institutions he started in Chithamparam and in Jaffna, as the Indian media of today reports that the Ramaswamy Chettiyar High School where Dr. Ramakrishnan studied is the only educational institution of the temple town.
The Queen of England, Elizabeth II, who conferred knighthood to Sir Arulkumaran was a Maths student of Jaffna-born C. Sundaralingam, who in turn was a student of Ampalavanar Allin Abraham of Kaarainakar, Jaffna, an astronomer and professor of mathematics of Jaffna College.
Allin was a native-trained scholar conferred with FRAS (Fellow of the Royal Astronomical Society) in 1911 for correctly tracking the path of Halley's comet from his improvised observatory set on top of palmyra palms in Kaarainakar Island, off Jaffna.
The Eezham Tamils face two kinds of genocidal forces today: the military of Colombo occupying their land, actually running the civil administration and slated to effect demographical changes as well as structural genocide, and another kind of force, an army of Buddhist monks deployed to supervise cultural and heritage genocide.
It was an irony that Britain knighted the gynaecologist for his services in medicine to the British Empire, when thousands of his kith and kin were killed in his home country, pregnant mothers and babies in womb were killed by shelling, thousands and thousands were deprived of medical treatment, babies were born in captivity in the internment camps and the few Tamil doctors who risked their life in the service to people were penalised for that.
The British government was indirectly a party to the plight.
"To me, the key was to make constructive comments and not to criticise people or to be too controversial. Consensus also has to be taken from the rest because once you oppose someone's view, be it a good or bad idea, some difficulty in integration will result. One has to show interest in the organisation and follow the due process," Sir Arulkumaran said in the interview to SMA, reflecting typical virtues endowed in the service mind of Eezham Tamils.
It is for the international community to grasp the discourse with the nation of Eezham Tamils, giving them a chance to contribute better to the global system by recognizing their righteous national aspirations and not by driving them to the corner to bounce back agitating.
The IC has pathetically failed in it so far and the diaspora is yet to be awakened to look at it through its own eyes and to respond with appropriate global organisation.
Former President of India Abdul Kalam always used to uphold Thiruku'ral as inspiration of his heritage.
Sir Arulkumaran saying that he reads Baghavad Gita and sage Ramakrishna for philosophical inspiration may cast a different image just as his Eezham Tamil predecessor Sir Muthu Coomaraswamy choosing to perform Sakunthalam to Queen Victoria in the 19th century. But Sir Arulkumaran also says that he is now reading Martin Luther King Jr. and Nelson Mandela, means there is fire in the corner of the heart of the lord.
Much is left to the next generation of the Tamil diaspora to pick up that spirit and to come out with innovations in setting the international equations right.
(For updates you can share with your friends, follow TNN on Facebook, Twitter and Google+)