Sri Lanka to hold early elections: state radio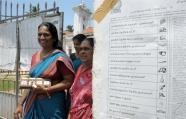 Sri Lanka will hold early presidential and parliamentary elections, state radio announced Tuesday, as the government looks to gain from strong public support after its defeat of the Tamil Tiger rebels.
The presidential poll, which was due by November 2011, will now be held before April 2010, the Sri Lanka Broadcasting Corporation said.
It did not give an exact date.
A government minister was also quoted as saying that parliamentary elections, which were due shortly after the legislature ends its term on April 2, would also be brought forward and held with the presidential poll.
President Mahinda Rajapakse personally oversaw the military's campaign that crushed the separatist Tamil rebels in May, ending decades of ethnic warfare on the island.
Officials from the president's United People's Freedom Alliance said they were keen to call an election to take advantage of support from the majority Sinhalese after victory against the Tamil rebels.
Rajapakse has resisted calls for war-crimes investigations into his military policy and, with support from China and Russia, managed to stave off a United Nations Security Council debate on the issue.
The UN has said that up to 7,000 civilians may have perished in the first few months of this year when security forces escalated their offensive against the remnants of the rebel Liberation Tigers of Tamil Eelam (LTTE).
The president's party secured 68 percent of the vote at the recent Southern provincial council elections, slightly lower than expected.
"The party is quite comfortable with the 68 percent support, but it is better to have an early election to renew our mandate," a senior ruling party official said, declining to be named.
(For updates you can share with your friends, follow TNN on Facebook, Twitter and Google+)