Sri Lanka Jaffna post restarted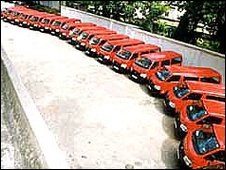 Overland postal services have restarted from Colombo to the city of Jaffna, the main town in Sri Lanka's north, five months after the end of the war.
Forty-two bags of mail on Thursday travelled south overland from Jaffna, while 56 bags were conveyed northwards.
The old-fashioned movement of letters and parcels constitutes one more small step towards restoring a kind of normality in northern Sri Lanka.
The mailbags do the northern stretch by bus, on a newly reopened highway.
They travel in the opposite direction, south of the town of Vavuniya, by train.
Speaking to the BBC from Jaffna city, deputy postmaster-general V Kumaraguru said that people of the region would now be able to send post to their kith and kin "very fast".
He said that special express and overseas deliveries would also benefit.
Overland movement of post to Jaffna had been suspended since 2006, when a ceasefire collapsed and the last phase of the war began.
Mail had to be transported by ship.
Businesses ranging from banks to international fast-food chains have been recruiting staff in Jaffna as the city's residents hope for normality after decades of war.
Yet there are still heavy restrictions on travel to the region. Outside journalists, both Sri Lankan and foreign, have generally been excluded from it for months.
BBC NEWS | World | South Asia | Sri Lanka Jaffna post restarted
(For updates you can share with your friends, follow TNN on Facebook, Twitter and Google+)