Vijayakant criticises MPs visit to Sri Lanka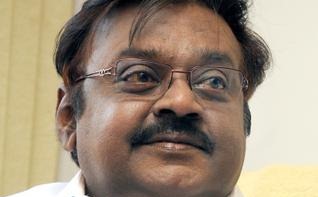 Actor-politician Vijayakant on Thursday said the visit of the 10 member MPs delegation from Tamil Nadu to Sri Lanka to study the conditions of internally displaced Tamils was a 'pleasure trip' and had in no way benefitted Tamils in the island nation.
"The pleasure trip of the MPs delegation has done no good for the Sri Lankan Tamils. On the other hand, it has only benefitted Sri Lankan President Mahinda Rajapaksa, who managed to win over the Indian MPs," the DMDK founder said in a statement here.
Tamils who met the delegation at different venues including Jaffna Tamil University, posed some "uncomfortable questions" to them, he claimed.
He demanded to now the need for such a "fact-finding team" at this point of time and wondered whether the Indian Embassy in Colombo "was hiding facts" all these days.
Even the External Affairs Ministry had not made any statement in this regard, he said.
On the request by certain political parties to the Centre, requesting its intervention in ensuring the welfare of Sri Lankan Tamils, he said they were not bothered about "the life and death situation" of lakhs of Tamils lodged in camps in the island nation.
(For updates you can share with your friends, follow TNN on Facebook, Twitter and Google+)