Obama battles to save peace plan as fears grow of collapse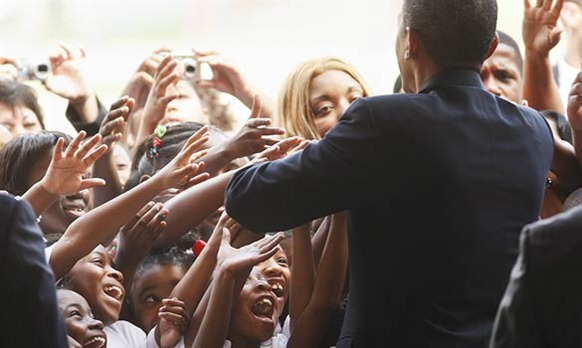 The threat to the Middle East peace process has sent President Obama's Administration into a tailspin. George Mitchell, Washington's special envoy to the Middle East, was close to calling off a trip to the region last week but was reportedly press-ganged into going by the White House — who feared that negotiations might collapse sooner if he stayed away.
The crisis has sharpened the focus on Mr Obama's decision to join the UN Human Rights Council — a reversal from the Bush-era and hailed as part of the US's new policy of engagement in multilateral diplomacy.
Critics were savage, noting the council's history of bias against Israel, the only country it has condemned for human rights abuses. Sudan's behaviour in Darfur merited only "deep concern".
There is no lack of irony for America, facing its first vote as a full member of the council. President Obama was only a month into office when he announced that the US would stand for the council as proof of its commitment to work with other nations. Now the panel he embraced may derail his other great foreign policy objective — peace in the Middle East. Critics contend that this was always going to happen, given the council's peculiar composition and obsessions.
The council was established three years ago to replace its discredited predecessor, the 60-year-old Human Rights Commission. It sank under the weight of international opprobrium after its effort at inclusivity led to human rights abusers like Sudan and Zimbabwe joining together to block criticism of their actions.
The Bush Administration refused to join the council, arguing it was little better than its forerunner. In three years, it has gone a long way to proving that thesis.
Forty-seven countries sit on the council, all with equal weighting. Unlike the Security Council, there are no permanent members, just countries elected to serve a three-year term. And unlike the Security Council, no country wields a veto, making any resolution passable by a simple majority.
A great number of resolutions have been about Israel – many more than any other country. In its first two years, the council passed 15 resolutions condemning it. Its focus on Israel has brought objections from inside and outside the UN — including by Kofi Annan and Ban Ki Moon, the former and current Secretary-Generals. Mr Annan criticised the council for its "disproportionate focus on violations by Israel" while neglecting other parts of the world such as Darfur, which had what he termed "graver" crises.
There was widespread concern in March this year when the council adopted a non-binding resolution — authored by Pakistan and sponsored mainly by Islamic states — calling the defamation of religion "a violation of human rights". The resolution was derided as a blow against freedom of expression. Human rights groups labelled the council a "disgrace" when, in May this year, it subverted a European resolution calling on Sri Lanka to investigate alleged war crimes in its long-running conflict with the Tamil Tigers into one that praised Colombo for its success in stamping out terrorism. UN sources told The Times that an estimated 20,000 civilians had been killed by Sri Lankan army shelling.
(For updates you can share with your friends, follow TNN on Facebook, Twitter and Google+)