UN human rights chief criticizes Sri Lankan government -examiner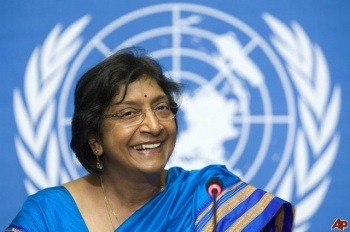 The UN High Commissioner for Human Rights Navi Pillay on Wednesday (Oct 14) criticized the Sri Lankan government for not responding "to our many requests for an international investigation of what we say is widespread acts of killing of civilians."
Speaking at a press conference in Brussels Wednesday evening, she said that "such a request has also been made by the (UN) Secretary General and we are working very closely with the Secretary General to hold the President of Sri Lanka to his promise which he made to the Secretary General that he will look into the issue of accountability and so we want to know what kind of mechanism is he setting up."
The UN human rights chief said, "we have pointed out that they have in the past attempted to hold national investigations of very serious acts of killings that occurred of NGO and humanitarian workers and these investigations were dropped."
"They do not have a very good record in holding serious investigations. Now, I am engaged in discussions with the Secretary General over what kind of mechanism would be acceptable. But as I said the bottom-line is that the government is resisting these suggestions," Pillay, a former South African high court judge, was quoted as saying by EuAsiaNews.
(For updates you can share with your friends, follow TNN on Facebook, Twitter and Google+)