AFP: Sri Lanka shares tumble after US fraud accusation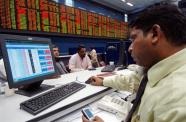 Sri Lankan shares tumbled in morning trade Monday after the US slapped fraud charges against a billionaire Sri Lankan-born hedge fund manager with substantial interests here.
The Colombo Stock Exchange shed 3.1 percent as it opened for the first time since the US Justice Department filed insider-trading charges against Raj Rajaratnam, with investors fearing a fall-out from the case.
"What we are seeing is a knee-jerk reaction. Many fear that Rajaratnam may be forced to liquidate his portfolio here and there won't be enough takers," said analyst Channa Amaratunga of CT Capital.
The share price of Sri Lanka's blue chip John Keells Holdings, in which Rajaratnam owns a 9.2 percent stake, dropped by nearly five percent to 146 rupees in early trading.
The small Colombo bourse has been one of the best performing markets in the world following the government's successful military campaign to crush Tamil Tiger rebels earlier this year.
Rajaratnam, founder and head of the New York-based Galleon Management hedge fund, is a major investor in Sri Lanka's 10-billion-dollar bourse with holdings in a string of leading companies.
In the US, Rajaratnam and his fellow alleged conspirators are accused of earning 20 million dollars from illegal trading in what media reports said was the biggest ever hedge fund insider dealing scheme in the US.
He attended primary school in Sri Lanka before going abroad with his parents and his arrest was front-page news in the island's newspapers over the weekend.
He was reported by the US magazine Forbes to have studied in Britain and the United States before creating the hedge fund, estimated in reports to manage at least six billion dollars in assets.
(For updates you can share with your friends, follow TNN on Facebook, Twitter and Google+)