Human smuggling suspected – nationalpost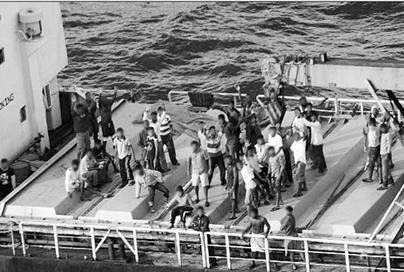 Two busloads of young migrant men– thought to be from Sri Lanka and possibly including boys — waved their bound hands as they left the Vancouver Island Correctional Centre yesterday bound for the mainland.
The 76 migrants were taken into custody on Saturday after their rusty freighter Ocean Lady was escorted into Victoria by Canadian authorities, in what could be a case of human smuggling.
At the jail's gate, Rob Johnston, director of enforcement with the Canada Border Services Agency, said the migrants were being taken to B.C.'s Lower Mainland for processing.
"All of the irregular migrants will go to Vancouver to undergo the examination process to determine if they are eligible under the Canadian Immigration and Refugee Protection Act," he said. The immigration legislation allows for granting refugee protection to persons who are displaced, persecuted or in danger.
Mr. Johnston provided no further details about the migrants — where they are from, what languages they speak or whether they are all adults.
Two buses with tinted windows were loaded with what appeared to be clothing and bagged lunches before the young men, whose hands were bound in plastic straps, were led aboard and driven to Vancouver via BC Ferries.
In Ottawa, Public Safety Minister Peter Van Loan said early indications are the migrants are from Sri Lanka.
"Obviously, they are arriving in a non-conventional fashion so that raises concerns … of human smuggling."
The RCMP seized the ship on Friday afternoon in the Strait of Juan de Fuca. It was escorted into Victoria by RCMP catamarans and the Canadian Navy frigate HMCS Regina.
David Poopalapillai, national spokesman for the Canadian Tamil Congress, believes those aboard the ship are Tamils from Sri Lanka based on the photos he's seen of them through various media.
"Generally in Sri Lanka, young Tamil males are the most targeted group," he said from Toronto yesterday.
(For updates you can share with your friends, follow TNN on Facebook, Twitter and Google+)