People smuggler on asylum boat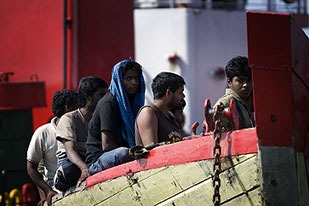 A convicted people smuggler has been arrested after Indonesian authorities found him among a boatload of Sri Lanka asylum seekers holed up on their wooden vessel in a port.
Abraham Lauhenaspessy, or "Captain Bram", was on Monday found posing as one of the crew members of the boat packed with about 260 Sri Lankans that was intercepted on Sunday on its way to Australia.
Lauhenaspessy has reportedly brought more than 1,500 asylum seekers to Australia since he emerged as a key organiser of Indonesia's people-smuggling operations in 1999.
News of the arrest came after Australian authorities said they intercepted another boat carrying more than 30 suspected asylum seekers, the 33rd vessel this year, off Ashmore Island late on Sunday.
In an interview with Australian public radio, Stephen Smith, the Australian foreign minister, confirmed Captain Bram's arrest.
Prior conviction
"He is of course someone who has previously been convicted of people smuggling offences and well known to Australian and Indonesian authorities," Smith said hours before heading for Jakarta.
"Let's now leave that to the Indonesian judicial and legal processes to take their course."
Smith and Kevin Rudd, the Australian prime minister, are due to attend the inauguration of Susilo Bambang Yudhoyono, the Indonesian president. The trip will also include talks on people smuggling.
Indonesian officials were trying to negotiate with the Sri Lankans, who have threatened to set fire to their boat if they are forced to disembark in Indonesia and undergo asylum procedures that could take years.
A spokesman for the Sri Lankan asylum seekers, who at the weekend ended a hunger strike launched after they refused to disembark their vessel moored in a port in west Java, confirmed that Captain Bram was on board.
The spokesman, known as Alex, said the vessel was intercepted after Captain Bram turned the boat around before they could land in Australia, after failing to make a rendezvous with a smaller boat that would have returned him to Indonesia.
He said Captain Bram did that to avoid being caught by authorities in Australia, where people smugglers can be jailed for up to 20 years.
"The selfish move that he has made has cost 260 lives… a decision that he made… to save himself has ruined our families' lives as well," he told public radio. "It has destroyed a dream that people were searching for freedom."
(For updates you can share with your friends, follow TNN on Facebook, Twitter and Google+)