'US fund manager cleared of funding terrorism'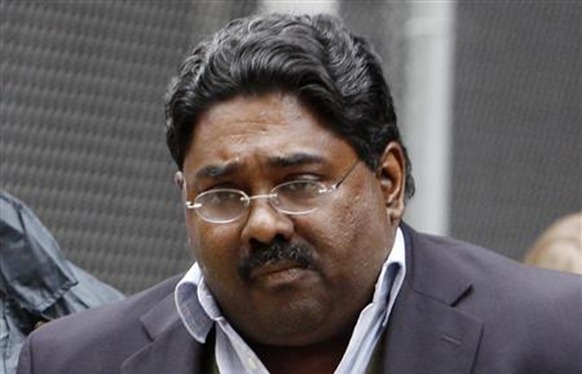 Sri Lankan-born hedge fund billionaire Raj Rajaratnam was investigated for allegedly funding Tamil Tiger rebels, but there was no evidence against him, the Central Bank of Sri Lanka said Monday.
US authorities on Friday charged Rajaratnam, 52, with fraud after saying they had uncovered the biggest ever case of insider-trading by a hedge fund.
He was among several wealthy overseas Sri Lankans whose donations to a Maryland-based charity, the Tamils Rehabilitation Organisation (TRO), are suspected of making their way to the separatist Tamil Tigers.
"At the time Mr. Rajaratnam made the donations, the TRO was not banned by the Sri Lankan government, nor the US. It was a donation made in good faith," the central bank's investigations unit chief, D.K. Wijesuriya, told AFP.
The central bank is the leading investigating authority in Sri Lanka for all financial transactions that are suspected of breaching money-laundering laws.
The Liberation Tigers of Tamil Eelam (LTTE) are considered a terrorist organisation by Sri Lanka, the United States and the European Union. After decades of civil war, the government declared victory over the LTTE in May.
Wijesuriya said their investigations did not uncover any wrongdoing by Rajaratnam, who he said had given the money to the TRO for reconstruction work following the December 2004 Indian Ocean tsunami.
The TRO was outlawed in Sri Lanka in November 2007 and its assets were frozen a year later.
Sri Lanka's securities regulator said there were no probes on Rajaratnam's dealings in the island's tiny 10-billion-dollar bourse.
"None of his trades ever aroused our suspicion. This (the US charges) came as a surprise," the Securities and Exchange Commission director general, Channa de Silva, told AFP.
Federal prosecutors in New York charged Rajaratnam, founder of the Galleon Management hedge fund, with securities fraud and conspiracy to commit securities fraud.
Sri Lankan shares tumbled 3.1 percent in morning trade Monday on fears of economic fallout from the US case against Rajaratnam, who has substantial business interests on the island.
Rajaratnam, who had his primary education in Sri Lanka, is the world's 559th richest person according to Forbes magazine with a net worth of 1.3 billion dollars.
(For updates you can share with your friends, follow TNN on Facebook, Twitter and Google+)