Australia denies 'terrorists' on asylum boats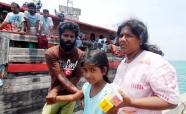 Australia's Prime Minister Kevin Rudd Thursday angrily denied extremists were among hundreds of asylum-seekers arriving in the country, as another two boats were stopped off the northern coast.
Rudd demanded that opposition leader Malcolm Turnbull withdraw support for renegade backbencher Wilson Tuckey, who said there were "narrow odds" some of the rickety vessels harboured terrorists.
"I think these are deeply divisive, disgusting remarks and they do not belong in any mainstream Australian political party," Rudd said.
"I think Mr Turnbull should show some leadership, and withdraw his support for Mr Tuckey's pre-selection as a Liberal candidate for the next election."
Turnbull accused the prime minister of trying to draw attention away from the steep rise in asylum-seekers, which has reignited Australia's bitter immigration debate.
"The prime minister, in an outburst of contrived indignation, seeks to distract attention from the comprehensive failure of his border protection policies," the opposition leader said.
Border guards stopped another two boats carrying 56 people, taking the number to some 35 vessels this year mostly carrying people fleeing hotspots like Sri Lanka and Afghanistan.
"If you wanted to get into Australia and you have bad intentions, what do you do?" Tuckey said on Thursday.
"You insert yourself in a crowd of 100 for which there is great sympathy for the other 99."
Australia also denied offering Indonesia cash incentives for stopping migrants, and played down reports a people-smuggling vessel was deliberately sabotaged to force a rescue by the Australian navy.
Foreign Minister Stephen Smith said Australia was making a "considerable contribution" to fight human trafficking in neighbouring Indonesia, a major migrant staging post.
But he said a new framework agreement thrashed out by Rudd and Indonesia's President Susilo Bambang Yudhoyono did not involve "bounty" payments.
"I don't think we should categorise that as, in any way, a per diem or a bounty or any such pejorative terms," Smith told public radio.
Peter Woolcott, Australia's special ambassador on the issue, said costs would be discussed as part of the new agreement, but denied Indonesia was seeking handouts.
"There's no price per head," Woolcott told a Senate committee.
"We haven't actually sat down with the Indonesians yet to negotiate what this framework will look like, what forms our support will take, but I'm not aware of any consideration being given to a price per head."
Indonesia this week agreed to take 78 asylum-seekers on humanitarian grounds after the group ran into trouble off Sumatra island and were rescued by Australia's navy.
Unnamed sources told The Australian newspaper that people on the boat deliberately bored holes into the vessel, forcing the navy to take them on board.
"I'm not leaping to conclusions, I'm not making any judgment and I don't think other people should," Smith told public radio.
(For updates you can share with your friends, follow TNN on Facebook, Twitter and Google+)