US reports possible war crimes in Sri Lanka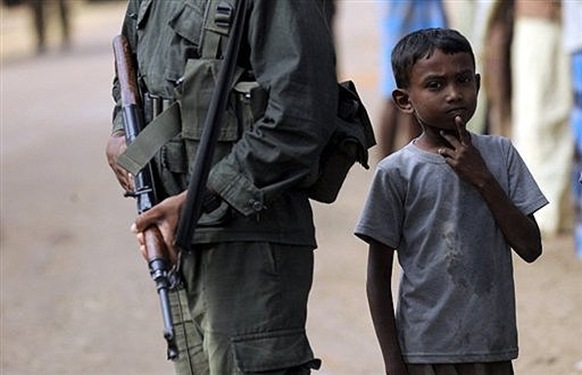 Sri Lankan government forces and Tamil rebels may have both violated the laws of war this year during the culmination of their 25-year armed conflict, a US government report said Thursday.
The State Department report cited allegations in which Tamil rebels took boys and girls to join their guerrilla force and in which government forces broke a ceasefire as well as killed rebels who had agreed to surrender.
It also cited reports in which government troops or government-backed paramilitaries "abducted and in some instances then killed Tamil civilians, particularly children and young men."
The report, which is being sent to the US Congress, also said not enough food, medicine and clean water reached a no-fire zone and civilian camps even though the government had pledged to guarantee sufficient supplies there.
The report covered the period from January — when fighting intensified — until the end of May, when Sri Lankan troops defeated the Liberation Tigers of Tamil Eelam (LTTE) at the end of a 25-year civil war.
"The United States recognizes a state's inherent right to defend itself from armed attacks, including those from non-state actors such as terrorist groups," the report said in its executive summary.
"The United States also expects states and non-state actors to comply with their international legal obligations," it added.
"This report compiles alleged incidents that transpired in the final stages of the war, which may constitute violations of international humanitarian law or crimes against humanity and related harms," it said.
But it said the report "does not reach legal conclusions" as to whether such incidents actually amount to violations of the laws of war. Nor does it conclude that the incidents mentioned actually occurred.
Brad Adams, Asia director at the New York-based Human Rights Watch, said in a statement that the "report should dispel any doubts that serious abuses were committed during the conflict?s final months.
(For updates you can share with your friends, follow TNN on Facebook, Twitter and Google+)