SLA conducts Perahera in Jaffna city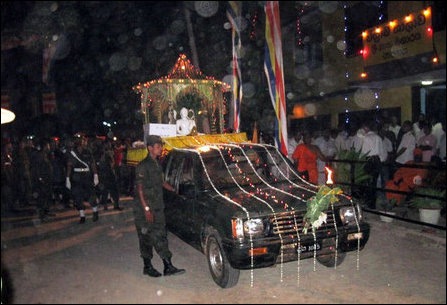 The 51st Division of Sri Lanka Army (SLA) in Jaffna conducted the 'Katrima Pooja' perahera (Buddhist religious procession) of Naakavikaarai located in Jaffna city Thursday night led by Namal Rajapakse, the son of Sri Lankan President Mahinda Rajapaksa, who had come along with 250 youths and 20 Buddhist priests from the South to participate in the perahera. Local residents, however, did not show any significant interest in the perahera conducted by the SLA.
More than a thousand SLA soldiers, the families of SLA soldiers who had come from the South took part in the procession that left Naakavikaarai and proceeded through Hospital Road, Raasaavinthoaddam Veethi, Naavalar Veethi, Aanaikkoaddai reached Naakavikarai located at Aariyaku'lam junction along Point Pedro Road.
Douglas Devananda, a minister in the Sri Lankan cabinet and the head of EPDP group that worked along with the SLA as a paramilitary, Jaffna Government Agent, K. Ganesh, Vice-chancellor of the University of Jaffna, Prof. N. Shanmugalingan and Jaffna Mayor, Ms. Yogeswari Patkunam were invited to the perahera by the SLA.
The perahera is being held after nearly three decades, the chief incumbent of Naakavikaarai, Rev. Meekaja Thuray Gnanaratna Thero, told media in Jaffna.
Naakavikaarai, which was destroyed decades ago, was rebuilt after 1996 when the SLA occupied Jaffna.
The procession was heavily guarded by SLA soldiers.
(For updates you can share with your friends, follow TNN on Facebook, Twitter and Google+)