Reports Press Sri Lanka on Possible War Atrocities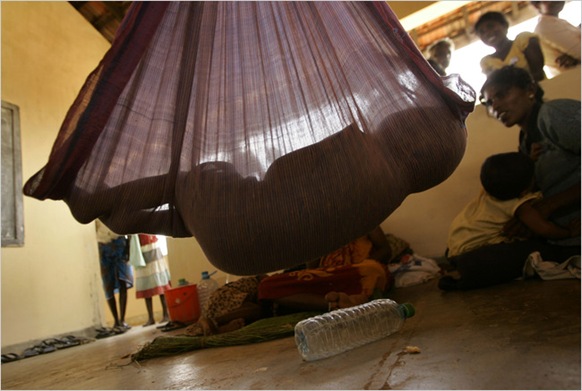 International pressure is mounting on Sri Lanka's government to investigate atrocities that may have been committed during the final stages of its war with the Tamil Tiger insurgency as two new reports from the European Union and the State Department detailing alleged human rights abuses were released this week.
The reports come as Sri Lanka also faces intensifying criticism for its decision to keep more than 250,000 Tamils who were displaced by the fighting in closed camps that critics have likened to internment camps. The government says it plans to allow 80 percent of these people to return to their homes by the end of January, but insists that it must first weed out any remaining Tamil Tiger rebels hiding among them.
The European Union report could lead to the withdrawal of trade concessions worth tens of millions of dollars to Sri Lankan garment and fisheries industries. It represents the first threat of a serious sanction against the Sri Lankan government as a result of its conduct of the war.
Economists and business officials said the loss of the trade concessions, known as GSP-plus, could be a serious blow to an ailing Sri Lankan economy. The country's garment industry will probably bear the brunt of the impact because as much as 60 percent of the country's apparel exports go to the European Union.
Tariffs on some products could go to between 5 percent and 18 percent, from zero or near zero, said E. M. Wijetilleke, the secretary general and chief executive of the National Chamber of Commerce of Sri Lanka. Such increases could sink smaller companies that cannot cut costs to match bigger and lower-cost producers in China and India, he added.
"Some small-scale firms will not be able to survive and they will have to lay off the workers from their jobs," Mr. Wijetilleke said. "There will be a huge impact on the economy."
The garment industry in Sri Lanka employs about 270,000 workers directly and an additional 50,000 indirectly, according to estimates by Oxford Analytica, a research firm.
The State Department report, which was released Thursday, was largely a catalog of mostly unverified abuses by Sri Lankan forces and the Tamil Tigers based on reports from the American Embassy in Colombo, Sri Lanka's commercial capital.
Because of limited access to the war zone by independent aid groups, human rights investigators and journalists, the report does not draw conclusions but urges Sri Lanka to investigate the allegations.
Asked why the report did not take a tougher line, a State Department spokesman, Ian C. Kelly, defended the conclusions at a briefing with reporters this week.
He said the Obama administration was calling on the Sri Lankan government to open the closed areas to international scrutiny, to investigate the allegations and to bring to justice anyone responsible for atrocities.
So far, the Sri Lankan government has proved adept at eluding international scrutiny and seemingly indifferent to even the harshest criticism of the Western countries on human rights issues.
It maneuvered its allies on the United Nations Human Rights Council to transform a stern demand for an international war crimes inquiry into a resolution celebrating its triumph over the Tigers. Efforts by Western countries to stall a $2.6 billion loan to Sri Lanka from the International Monetary Fund also failed.
International efforts to press Sri Lanka to release Tamil civilians from army-run camps in the country's north have borne little fruit. More than halfway to the government's self-imposed deadline to let almost all of the displaced people return to their homes, fewer than 10 percent have been allowed to leave, according to the United Nations, human rights organizations and aid groups. And some who have left the camps have been settled in other camps rather than being sent home, according to Brad Adams of Human Rights Watch.
"I think it is fair to say now they never intended to keep their commitment to return the displaced because they have consistently reneged on their promises," Mr. Adams said. "Their promises are not to the international community, they are to the people in the camps."
(For updates you can share with your friends, follow TNN on Facebook, Twitter and Google+)