Vettaikaran punch dialogue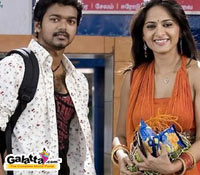 There are so many aspects of Vijay and Ajith starrers that have not just their fans, but the general audiences also eagerly awaiting the release of their movies. There's the highly anticipated opening scene, which marks the entry of the hero. This is not always necessarily the first scene in the movie – most often, the supporting cast give a big build up before our man makes his charismatic wham-bam entry. Remember Kuruvi, in which Vijay came shooting out from underground? Or in Billa when Ajith stylishly thulped a bunch of baddies and a can of cola! The claps and whistles in that opening scene are several decibels higher than in any other part of the movie when the hero is showing off his macho side. But their movies are not all about the entries. Courtesy Super Star Rajinikanth, our young heroes are now hooked on to what we call the 'Punch Dialogue' fad.
What will Vijay's punch dialogue be in his next movie? Will it be an indirect witty repartee to Ajith's punch dialogue in his previous movie? The duo engaged in these verbal wars in the past, but thankfully, they have grown out of it. But it will be a long time before they actually grow out of the Punch Dialogue addiction. Rajinikanth is essentially the king of the cleverly-coined phrase that he frequently repeats in the movie with the result that people commit it to memory before they step out of the cinema. But now, it's become a necessary part of every mass movie that releases. Even young actors and debutantes enjoy delivering punch dialogues, hoping these will be memorized and repeated by the audience.
Vijay's next movie Vettaikaran, in the direction of Babusivan, is undoubtedly a full-fledged mass movie. "There's action, sentiment, romance, comedy – a little bit of everything properly sewn together. Everything that a Vijay fan would expect, he will find it in Vettaikaran, but shown in a way never seen before. You cannot label it a don movie or a mass movie. It has all the essential elements to entertain audiences," says a confident Babusivan. Would he share the punch dialogue in the movie with us?
"There is no single statement that one can pick and call a punch dialogue, every dialogue in the script is a punch dialogue," he says. One can almost see the smug look on Vijay's face as he delivers one of those wisecracks just before he breaks the baddies' bones!
(For updates you can share with your friends, follow TNN on Facebook, Twitter and Google+)