Tamil Nadu must recognize and support establishment of Tamil Eelam: Thirumavalavan
Stating that there was a total violation of human rights in the Sri Lankan Government's camps for Internally Displaced Persons, Viduthalai Chiruthaigal Katchi President Thol.Thirumavalavan, told TamilNet Friday in an exclusive interview of the "appalling conditions" prevalent in these "barbed-wire concentration camps" which he witnessed firsthand as one of the ten-member parliamentary delegation from Tamil Nadu. Pointing out that Tamil people could not become a "permanent slave society" and "live as second class citizens in Sri Lanka," Thirumavalavan sought to emphasize that Tamil Eelam was the only solution to a struggle that had claimed the lives of nearly fifteen hundred thousand Tamils civilians and more than thirty thousand Tamil Tiger fighters.
Mr. Thirumavalavan called upon the people of Tamil Nadu to be the first to recognize and support the establishment of an independent and sovereign state of Tamil Eelam. Moreover, the VCK leader came down heavily on Sri Lankan President Mahinda Rajapaksa and demanded the International Community not only clamp sanctions on Colombo, but also make Rajapaksa stand trial for war crimes.
Recalling the cramped, over-crowded atmosphere in the camps that were filled five-six times their capacity, he said that the people were stashed away like cows and dogs and pigs, and he recounted their misery in fulfilling their requirements of food, water, clothing and sanitation even as they lived in an atmosphere of fear.
Full text of the interview follows:
TamilNet: During your recent visit to Sri Lanka as a part of the parliamentary delegation from Tamil Nadu, did you get to see every camp? Were you allowed to choose the camps that you would visit, did you have sufficient freedom of movement, could you talk to the people at length? As it is being widely reported, did you see the people in the camps suffer? What is your conclusion based on what you saw?
Thirumavalavan: Regarding the conditions prevailing in these camps that I did visit, I feel that it is total violation of human rights. The people are stashed away like cows and dogs and pigs in barbed wire camps. There are about 45,000 to 55,000 people in the six main camps. In some cases, where the overcrowding is simply unbearable, they have created additional camps for about 5,000 to 15,000 people. Only the Zone 0 and Zone I camps, built by the Government of Sri Lanka as early as January 2009, have asbestos roofing. In the other camps people live in appalling conditions. They live within rexin enclosures that are 10 ft x 20 ft, and hemispherical in shape. These enclosures are partitioned, and about 5 to 10 people stay on each side in extremely cramped circumstances. All of them have to share a common bathroom, and of course these toilets are totally unusable. One of the major problems that people face is to get water for drinking and bathing purposes. The water supply is extremely irregular and insufficient. I heard the people tell me that they had to keep awake for a whole week in order to get five liters of water, which is supposedly their daily ration. Even though water is being distributed through borewells and tanks, it is never enough. There are five or six times more people than the camps can actually contain. People also complained that since the water is not clean and hygienic they have developed jaundice and skin diseases. A woman came up to me and complained that she had no change of clothes at all. A young boy pointed to his T-shirt and told me, "They said that this came from your Tamil Nadu. I have been wearing only this for the past two months." This is the abject reality.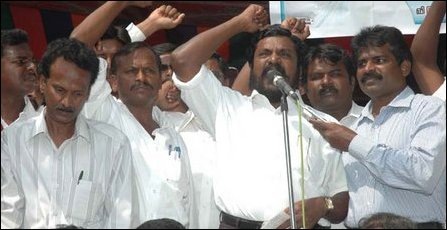 I also observed that people were not allowed to move from one concentration camp to another. Every camp was within a barbed wire. People were not able to meet their relatives in another camp. I heard them complain that someone who went to collect firewood for cooking was shot dead by the soldiers. The army follows extreme rigor in allowing visitors who are merely allowed to stand on the other side of a barbed wire fence. People also were worried with the food situation. They had earlier been given cooked food, but now they were being given only rice and lentils. They were not provided with any vegetables, or oil, or milk. All of them pleaded that they be sent back. Their unanimous appeal was, "What wrong have we done, please send us back."
People are also afraid of speaking freely since they were being photographed. The fear of monitoring has certainly silenced them. The government is quick to point out that they have more than a hundred doctors and teachers and so on. The Government Agent said that all the Internally Displaced Persons will be eventually returned. But, overall, I feel that the Government of Sri Lanka will not follow the six-month deadline which it assured to New Delhi for letting these people return. I feel that even ten percent of the people are yet to be sent back, and no effort seems to have been taken in that direction.
Initially, no restriction was imposed on the parliamentary team from visiting the camps. The Government Agent declared that we were free to go where we wanted to. I had already expressed my desire to necessarily visit the Ramanathan and Zone IV camps to T.R. Balu, the chief of this delegation. He conveyed this to the officials who were with us: Indian High Commissioner Alok Prasad, Vikram Mizri, Sri Lankan Deputy High Commissioner to India Vadivel Krishnamoorthy, First Secretary Shyam, and the local Government Agent Sarojini Charles. I visited four of the six camps in Menik Farm. In my observation, when I went to see the people, I was taken away by the Indian High Commission authorities, citing security reasons and lack of time. That was inconvenient.
Further, I reliably knew that more than 11,000 people who were suspected of being Tamil Tiger fighters (and their relatives) were housed in special camps in Oamanthai and Poonthoaddam, in the schools there. I wanted to meet them badly since they would be the ones subjected to utmost torture. However, they said that we could not visit them since it was not part of the schedule, and hence I couldn't go there. Likewise, I also wanted to visit the infamous Fourth Floor in Colombo which is the office of the crime branch. I expressed my wish to T.R. Balu. I was however told that no one is kept there on a permanent basis and that it was used only for questioning. Again, I was handed out the excuse that this was not a part of the programme schedule.
TamilNet: The delegation consisted only of members of parliament drawn from the ruling parties. Why was this not a broader parliamentary group?
Thirumavalavan: In the third week of September, a group of M.Ps from the ruling parties called on the Prime Minister and placed this demand to visit the camps in Sri Lanka, so these arrangements were carried out. This was not an authorized selection of a Parliamentary Delegation by the Government of India. I feel that the absence of the opposition parties from this delegation is certainly a drawback.
TamilNet: What is your opinion about a certain comment towards you from the Sri Lankan President Mahinda Rajapakse that has attracted a lot of attention in the Tamil media?
Thirumavalavan: After the meeting, during a group photo session, I was standing to the left of T.R.Balu, who was standing next to Rajapakse. I heard Rajapakse tell T.R.Balu, "He's very close to Pirapaharan you know. Luckily he was not there." I felt that he was in fact saying, "It is not that I let you here without knowing that you are a Tamil Tiger supporter. I am letting you here with full awareness of that fact." I realized that he had judged me appropriately, that he was not seeing me as a DMK-Congress combine representative, but as a 'representative' of the Tamil Tigers.
Importantly, our Tamil people are caught in the hands of our enemies and traitors. There are three hundred thousand people who are stuck in these camps. Moreover, all the people in the North-East are in the grip of the vicious army. Without meeting the enemies and traitors, we cannot meet the people, we cannot save them. During such a meeting, even if they speak in a manner that hurts us, we have to accept it for the sake of the people. I had to handle the situation for the sake of the people. I didn't react adversely to that remark since it would only affect my people.
TamilNet: You organized a conference last year to recognize Tamil Eelam. What was the aim of your conference and what is your present stand?
Thirumavalavan: We conducted the Thamizh Eezha Angeekaara Maanaadu in Chennai on 26 December 2008, and the single point resolution was to recognize the existence of an independent and sovereign Tamil Eelam. In spite of their valorous and dedicated liberation that lasted for more than a quarter century, not a single country had recognized the sole demand of the Tamil Tigers. In my opinion, the people of Tamil Nadu should be the first to recognize this and press it upon the people of the world. I believed that before the nations of the world recognized this independent state, before India itself recognized and lent its support to this, it was necessary that all the people in Tamil Nadu voice in favour of Tamil Eelam.
In my opinion, Tamil Eelam is the only solution. Fifteen hundred thousand civilian and more than thirty thousand fighters is the price we have paid so far in this struggle. The Tamil people cannot live as second class citizens in Sri Lanka. Hence, Tamil Eelam is the only solution. The Indian-origin upcountry Tamils, the North-East Tamils, Muslim Tamils and the Diaspora Tamils should establish a collective leadership. This is the immediate challenge. Otherwise, we will become a permanent slave society. To get the support of the International Community, they need to take up a democratic process. They should never get diluted from the goal of Tamil Eelam. They should move towards earning the approval of the International Community. The sympathy that has been generated towards the Tamils should go towards exposing the Government of Sri Lanka. The International Community should clamp sanctions on Sri Lanka and the present leadership that heads the GoSL should be tried for war crimes.
TamilNet: So long you showed yourself as a supporter of the LTTE, which led people to see you as a supporter of Tamil Eelam. In the future, would you continue to support Tamil Eelam which was the goal of the Tigers, or would you be supporting both?
Thirumavalavan: I feel that the armed struggle was just one tool of the Tigers and that has been destroyed not just by the GoSL, but by all the nations of the world collectively, including India and the International Community. There is a necessity to change the form of the struggle, but no need to change the aim of the struggle. The VCK will always support Tamil Eelam and the Tamil Tigers. The Tigers will rise again, but their forms of struggle could change. This is the belief of the VCK.
(For updates you can share with your friends, follow TNN on Facebook, Twitter and Google+)