'Released' IDPs re-arrested
The Sri Lanka military has confirmed that the security forces are re-arresting displaced people suspected of former LTTE members released from Vavuniya camps.
Acting military spokesperson Brigadier Prasad Samarasinghe told BBC Sandeshaya that re-arrested suspected former rebels are sent back to rehabilitation camps in Vavuniya.
He was responding to allegations by a pro-government politician that Tamil war displaced released from Vavuniya camps are being re-arrested in Trincomalee camps.
Judy Devadasan, Trincomalee district TMVP organiser and public relations officer to the eastern province chief minister said the trend has recently increased.
"People are being arrested from three centres; Chenayur MV, a school in Eachchalampattu and Kuchchiveli school. Nobody knows where they were taken to," she said.
Confirming the arrests, Brig. Samarasinghe says anybody concerned can contact the military or authorities of the relevant camp to find more information.
"LTTE terrorists are also being identified in camps in Trincomalee. Then they are being arrested and referred to rehabilitation camps in Vavuniya," Brig. Samarasinghe said.
The Sri Lankan foreign ministry has informed the European Union that screening of 160,000 IDPs has already been completed.
Statement to EU
Sri Lanka's Ambassador to Belgium, Luxembourg and the European Union, Ravinatha Aryasinha addressing the Human Rights Sub Committee of the European Parliament earlier said "out of 290,000 people liberated from the LTTE, over 150,000 had been registered and 110,000 issued with ID cards".
Ms. Devadasan said the allegations were made by IDPs in Trincomalee camps when she visited the camps with the chief minister.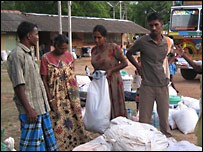 President Mahinda Rajapaksa's ruling coalition gained power in the eastern provincial council elections together with the TMVP.
The elections in the east in 2008, after decades of conflict, were hailed as a triumph for democracy in Sri Lanka.
The government continuously pointed that the appointment of a former LTTE child soldier as the chief minister was a significant step towards democratising the east after the decades of LTTE rule.
However, the TMVP official says they are facing difficulty in bringing government's message to Tamil people in ground.
"People are asking why they are not allowed to enjoy fruits of freedom secured by the security forces for the country," she said.
(For updates you can share with your friends, follow TNN on Facebook, Twitter and Google+)