Sri Lanka denies Tiger chief executed after surrender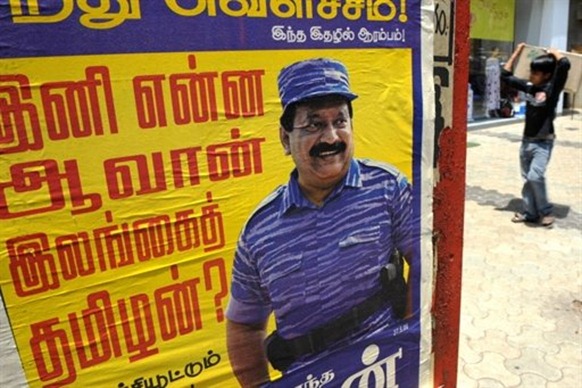 The Sri Lankan government rejected on Monday fresh accusations that Tamil Tiger separatist leader Velupillai Prabhakaran was executed after surrendering to security forces.
Sri Lanka's military announced on May 18 the killing of Prabhakaran, who led a 37-year campaign for an independent homeland for minority Tamils in the majority Sinhalese country.
The Sri Lanka Guardian, a US-based website that describes itself as an independent news organisation, reported over the weekend that Prabhakaran had surrendered, but was tortured and killed by the army.
It cited three sources, including a bodyguard who said he had escaped the final offensive and fled the country as well as officials from the Sri Lankan intelligence service and the defence ministry.
But in a statement, the defence ministry said there was a campaign to publish "concocted stories" in a bid to drag Sri Lanka's military before war crimes tribunals.
"A new version of the consequences that led to Prabhakaran's death has been concocted, involving the reputation of senior officers who gave leadership to the final battles against Tiger terrorists," the ministry said.
Both the Sri Lankan military and the Tiger rebels have previously said that Prabhakaran fought to the end.
His body was shown on national television a day later, with a deep cut to his skull. The cut has not been officially explained, but the army said he was killed in a gunbattle with government forces.
The latest claim came as a US State Department report said that both Sri Lankan government forces and Tamil rebels may have violated the laws of war this year during the culmination of their decades-old armed conflict.
Among the claims detailed in the report was the accusation that, in the final few days of fighting, senior Tamil Tiger leaders reached a surrender agreement with government forces but were then executed.
However, the report made no mention of any surrender by Prabhakaran.
Sri Lanka, which has rejected the US report as baseless, said a propaganda campaign had been launched with the "sinister motive of trying to take the security forces to a war crimes tribunal".
(For updates you can share with your friends, follow TNN on Facebook, Twitter and Google+)