Sri Lanka to probe rights abuses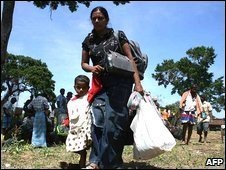 Sri Lanka says it will appoint a high-ranking independent committee to probe US claims of human rights abuses during the final phase of its civil war.
The US state department submitted a report last week to Congress, outlining serious violations allegedly committed by Sri Lanka's army and Tamil rebels.
The United Nations has previously called for an inquiry to determine if war crimes were indeed committed.
In May Sri Lanka defeated Tamil rebels after a bitter 26-year civil war.
The Liberation Tigers of Tamil Eelam (LTTE) had been fighting for a separate homeland for Sri Lanka's Tamil minority.
A US state department report on the final months of the conflict released on Thursday cited incidents committed by both sides which it said may have constituted crimes against humanity.
The report – based on first-hand accounts from both sides of the conflict – said most incidents occurred in official no-fire zones.
'Unsubstantiated'
The Sri Lankan government said the report appeared to be unsubstantiated and that the armed forces were scrupulous in protecting civilians.
"The US state department clearly states in that report that there is no legal basis for this report. Further it adds that they failed to confirm whether any of the incidents highlighted were true," Sri Lanka's human rights minister Mahinda Samarasinghe said.
But he added that the investigation was the correct step to take.
"This is a democratic country; not a military dictatorship. If somebody makes an allegation, it is our duty to investigate. I think the president's decision should be commended by the whole world."
Although the UN has raised concerns about human rights violations in the war, the US was the first country to publish an independent third party report.
The UN has said there are no conclusive estimates of civilian casualties during the final phase of the conflict – but about two weeks before the end of the war it said that 6,500 people had died.
The Sri Lankan military has blamed civilian deaths on the Tigers, saying they used people as human shields.
(For updates you can share with your friends, follow TNN on Facebook, Twitter and Google+)